The other day, we looked at Weber Q1000 and Q1200 to determine the best compact grill for camping or a small patio. In this post, we're going to continue on the topic, whereby we'll compare Weber Q1200 vs Q2200 to see how they stand out from each other.
However, the two grills are still from the Weber Q-Series for the compact gas grills. And for that, you'll notice various similarities, both in the physical design and performance.
Verdict: 5 Reasons Weber Q2200 is My Pick
The Weber Q2200 has a high heating output
The Weber Q2200 has large cooking grates
The Weber Q2200 has a large griddle space
The Weber Q2200 has large foldable side tables
The Weber Q2200 has a built-in temperature gauge
Weber Q1200 vs Q2200: Summary Features & Specs of the Gas Grills
Comparison Between Weber Q1200

vs

Q2200
Image


Weber Q1200 Price



Weber Q2200 Price
Grill Series
Q-Series
Q-Series
Dimensions in inches (w/ lid open)
20.5 by 40.9 by 24.5 (w/ side tables also out )
25.1 by 51.4 by 26.0 (w/ side tables also out )
Weight
25 lbs.
37 lbs.
Finishes Options
Six
One
Type of Fuel
Liquid Propane
Liquid Propane
Main Cooking Area
189 sq. inches
280 sq. inches
Secondary Cooking Area
N/A
N/A
Cooking grates Material
Cast Iron (Porcelain-enameled )
Cast Iron (Porcelain-enameled )
Total Main Burners
One
One
Heat Output
8500 BTU/ hour
12000 BTU/ hour
Grilling Temperature
Up to 600°F
Up to 600°F
Rotisserie Kit Included
N/A
N/A
Control Type
Physical Knob (no night light)
Physical Knob (no night light)
Temperature Gauge
YES
YES
Weber Connect Smart Grilling Hub Support
YES
YES
Best Extra Features
Colorful finishes, built-in thermometer, & foldable side tables
Higher heat output, wide cooking area, & built-in thermometer
Standard (Free) Warranty
5 Years
5 Years
View Details






1. Who Should Get Weber Q1200?
Weber Q1200 is one of the gas grills to consider if with a small budget at hand. Of course, it's not the cheapest on the market, but that's a price we have to pay when dealing with products engineered here in the country.
Regardless, the Weber Baby Q (Q1200 nickname) does have some admirable features for any grilling fanatic.
If it's the grilling capability, you can efficiently control the heat from slow cooking to searing your brisket. And there's even a built-in thermometer to track your desired cooking temperature.
Other pros and drawbacks of the Weber Q1200 you should know before buying include:
Pros:
It has a well-made build
Has a quick electronic igniter
Heats ups the grates well & evenly
Available in many colorful options
You can easily add a cooking griddle
Cons:
The low heat setting's still a little  hotter
Its lid doesn't lock (for transporting convenience)
---
2. Who Should Get Weber Q2200?
The Weber Q2200 is an excellent pick for anyone who loves the idea of the Q1200 but has a bit more people to feed. It has a total cooking area of 280 square inches, which can fit up to a dozen regular burgers.
The Weber grill has a total heat output of 12,000 BTU, which is almost like the single burner of Genesis II E-315 or E-335. Then, there's an external gauge to show the temperature of the cooking space.
Further, the Q2200 has split porcelain-enameled grates. So, you can use a griddle while still grilling a few burgers. Then it has two 10-inch foldable side tables that you could use as your working surface.  
Pros:
It has a solid build
Heats up fast & evenly
So easy to set up & operate
Also easy to clean & maintain
It can use a 16-oz or 20lbs gas cylinder
Cons:
It's slightly heavy & bulky
The foldout tables can't handle much weight
---
Weber Q1200 vs Q2200: Comparing the Features & Performance of the Gas Grills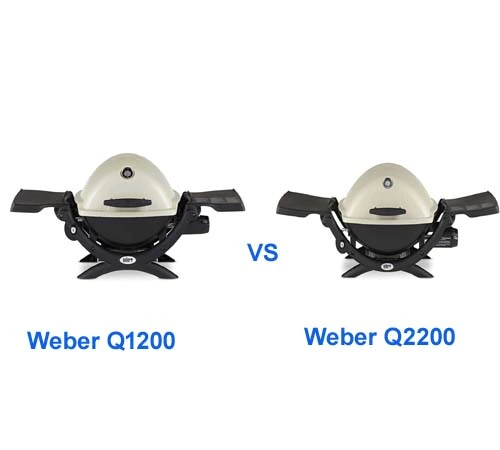 Pricing
Overall, the Q-Series is one of the best budget-friendly Weber grills. Our Q1200 here currently has a regular price of $259, whereas the Q2200 sells at $324.
The two pricing is slightly higher than what you'd have paid two years ago. But as mentioned in the previous post, Weber usually has limited-time offers where you can save a few bucks on your equipment.
Winner: Weber Q1200 is relatively cheaper than the Q2200 by about sixty-five dollars
Accessories Available
In most cases, the Weber grills come with only the main accessories. The story is no different for the Weber Q1200 or Q2200 either. You'll receive your grill with only the grilling grates and the removable (grease) catch pan.
The grates are two split pieces, which makes the two Weber machines compatible with the griddle. But that means you'll have to purchase it (gribble) separately since the company doesn't send one.
Further, Weber has a mobility cart, Connect Smart Grilling Hub, and protective cover for the Q1200 and Q2200. But they're also not included in the mentioned budget, thereby will have to purchase them separately too.
Winner: None as the two grills come with only the split grates and removable (grease) catch pan.
Design & Styling
As with other grills from Weber, the q1200 and q2200 have a really nice, well-made design. They have the overall body and lid in premium cast aluminum that can withstand the hottest heat for many years without corroding.
The cooking grates are also solid from the porcelain-enameled cast-iron material, and so is the stainless steel burner. Then, the entire frame and handles are glass-reinforced nylon which is also a long-lasting material.
Nonetheless, Weber innovated the Q1200 with various colorful finishes, including blue, green, red, and orange. But the Q2200 is only available in a single finish- Titanium, which is more of an off-white/ light khaki color.
Winner: Weber Q1200 as it has lighter weight and up to six fun color options
Burning Fuel
The two Weber compact grills split the point here as they all operate on the liquid propane gas. So, they heat up faster than the charcoal grills, which can be convenient during camping or tailgating.
Both Q1200 and Q2200 can also connect to either the small propane cans or large gas tanks if you have an adapter. But Weber doesn't send you the gas can/ cylinder or the adapter hose. So, you'll have to purchase them separately.
Winner: Both grills as you can connect with the 16-oz or 20lbs gas cylinders
Heating Output
On the Weber q2200 Vs q1200 heating test, the former takes the lead. Of course, the two grills have a single D-shaped burner and will achieve the same cooking temperature at the end of the day. But how fast they heat up varies.
For instance, the Weber Q2200 has a total heating output of 12,000 BTU per hour. And in a performance test during the fall, it would reach 420°F in 10 minutes and 550°F in twenty.
On the other hand, the Baby Q outputs 8,500 BTU per hour. And during that performance test (the same day with Q2200), it peaked at 350°F in the ten minutes, then 470°F in twenty.
But despite all that, the two grills would cook at 350°F in the low setting, 450°F for medium heat, and up to 550+F° at the highest setting. So, we can agree the actual cooking temperatures are a little higher than what Weber advertises (300°, 400°F, & 500°F).
Winner: Weber Q2200 as it heats up faster by a mark of about 70°F
Cooking Space
Again, Weber Q2200 takes the point here, thanks to its wider and longer cooking grates. It has a total cooking area of 280 square inches, which can cook food for three to four people in one go.
On its end, the Weber Q1200 measures 189-square inches in the total grilling space. And that means it can cook about half of what the Q2200 can achieve in a single run. So, you'll find it convenient if you're consistently grilling for one to two people.
Remember, the two gas grills have a split grate in case you decided to use a griddle. But even then, the Q2200 will still work better for more people than the Q1200.
Winner: Weber Q2200 as it has about 90-square inches more cooking space than Q1200
Cooking Methods
In our previous Weber Q compact portable grills review, we never talked about the various cooking methods you can do.
But for the Q1200 and Q2200, you can do the normal grilling at your desired temperature (slow/ medium/ high). You can even cook a whole bird in there, though, in the traditional way as neither of the grills has a compatible rotisserie.
As I've mentioned severally, these two gas grills can also accommodate a griddle when you remove one of the split grates. Thus, making it possible to cook things like eggs, salmon, and bacon as you like them.
If you wish to add "cooked with grill" smoky flavor to your dish, Weber also has a smoker box set you use. But it's also easy to DIY your smoker box that still works.
Winner: Both grills as they can do the normal grilling and also cook on a griddle
Ease of Use
Weber Q1200 and Q2200 will also be splitting the point in this part as they're all user-friendly. Different from the likes of Spirit or Genesis, the grills come while fully assembled.
So, you'll only need to connect the gas, lay the grates, and hit the built-in igniter button to begin the grilling.
Another thing, the two grills also have a lid-mounted thermometer that makes it easier to track your cooking temperature. Then, the foldable side tables are convenient to work on, especially while grilling on the go.
Winner: Both grills as they are easy to use, plus have a working surface and built-in temperature gauge
Other Related Questions
How much does a Weber Q2200 weight?
All the Weber Q grills are compact and portable for camping or tailgating. However, the Weber Q2200 weighs about 37 lbs. (or approximately 16.5kg), which is about twelve pounds heavier than Q1200.
Are Weber Q worth it?
Yes, indeed the Weber Q grills are worth it if you love to grill while camping or tailgating. The gas grills are also considerably cheaper than the larger models like the Spirit or Genesis II. So, you can grab one if you need a premium but budget-friendly grill.
How much can you cook on Weber Q2200?
The Weber Q2200 has relatively large grates with a total cooking area of 280 square inches. And in that kind of space, you can grill up to twelve regular burgers for three to four adults. Alternatively, you can use one split grate and a griddle to cook like five burgers and an egg, bacon, plus sausages.
Final Thoughts
At this point, you can see why I've said earlier that Weber Q1200 and Q2200 have so much alike. Build quality, accessories, gas, cooking methods, and user-friendliness is all there in either tool.
So, the main deciding point is the cost or cooking convenience. And, in my opinion, the cooking experience outshines the cost, which is why I'll maintain the Weber Q2200 is my favorite pick.
Besides, the price gap between the two is only $65, yet you'll have more cooking space for a whole chicken. Then, the grill heats up faster, which can come in handy when on a tight schedule or during cold weather.