Is your backyard too small for a full-range BBQ grill? Or would you like to grill while on the go with ease? If your answer is a yes, we now have pretty amazing compact portable gas grills on the market. And in this review, we're going to compare Weber Q1000 vs Q1200 to see which equipment would be much better to own.
Well, the two grills are under the same Weber Q Series. So, you'll notice they share a number of features, just like with the Weber Genesis II E-315 and E-335 that we covered the other day.
Verdict: 5 Best Perks on the Weber Q1200
The Weber Q1200 has foldable side tables
The Weber has a compact, portable design
The Weber Q1200 has a built-in temperature gauge
The Weber Q1200 has up to six colorful finishes to choose
The Weber reaches Up to 600°F temperature in 16 minutes
Weber Q1000 vs Q1200: A Peek on the Features & Specs of the Portable Gas Grills
Weber Q1000

vs

Q1200
Image

Weber Q1000

Weber Q1200
Grill Series
Q-Series
Q-Series
Type of Fuel
Liquid Propane
Liquid Propane
Dimensions in inches (w/ lid open)
20.5 by 27.0 by 23.5
20.5 by 40.9 by 24.5 (w/ side tables also out )
Main Cooking Area
189 sq. inches
189 sq. inches
Secondary Cooking Area
N/A
N/A
Cooking grates Material
Cast Iron (Porcelain-enameled )
Cast Iron (Porcelain-enameled )
Total Main Burners
One
One
Heat Output
8500 BTU/ hour
8500 BTU/ hour
Grilling Temperature
Up to 600°F
Up to 600°F
Rotisserie Kit Included
N/A
N/A
Control Type
Physical Knob (no night light)
Physical Knob (no night light)
Temperature Gauge
NO
YES
Smart iGrill 3 Support
NO
NO
Best Extra Features
Compact design, compatible with griddle, & heats up fast
Compact design, built-in thermometer, & foldable side tables
Site Tables
No
Two
Ignition
Push-button
Electric
Standard (Free) Warranty
5 Years
5 Years
Price Details






Price Details
$229 on Walmart
$259 on Walmart
1. Weber Q1000 Quick Review
At this point, Weber has at least five gas grills under its Q-series compact grills. The Weber Q1000 is one of the said small grills, and a great option if you love to BBQ on the go or have a limited backyard at home.
While the lid's closed, the Q1000 grill measures 16.5 by 27.0 by 14.5 inches. So, you could put it in the RV storage with the rest of your camping or beach gear without much hassle.
Other pros & cons of the Weber Q1000 portable grill include:
Pros:
It has a solid, durable build
Has a quick electric switch
Heats the grates pretty quick
So easy to clean the grates & drip pan
Has a convenient control for temperature
It has split grates to accommodate a griddle
Cons:
Its lid doesn't lock (for transporting)
The lowest heat setting's still a little too hot
Some people struggle to attach the disposable gas bottle
2. Weber Q1200 Quick Review
The Weber Q1200 is one of the bestselling gas grills right now. It's an upgrade of the Q1000, which we could say the maker intended to address some of the common issues previous users have raised.
For instance, the Q1200 now has an external gauge to show the temperature inside your grill. And for that, it's pretty easier to know when it's warmed up enough to start your cooking.
Further, Weber has added the portable gas grill with foldable side tables to put on your food while prepping or cooking. But while it's a great addition, it also means you'll find the equipment slightly heavier by about 3-4lbs
Other pros & cons of the Weber Q1200 include:
Pros:
It's a solid, durable build
Straightforward to setup & operate
Available in various colorful finishes
Has one-touch ignition & heats up fast
So easy to control cooking temperature
It has split grates to accommodate gribble
Cons:
Its lid doesn't lock (while transporting)
Some of the rough color textures attract dirt easily
It can be difficult to attach the gas bottle for some people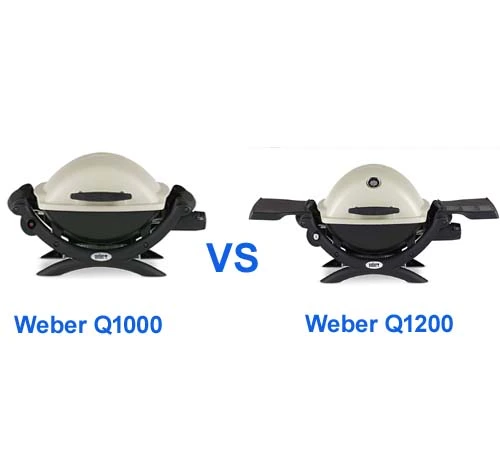 Weber Q1000 vs Q1200: Comparing the Features & Capabilities of the Portable Gas Grills
Best of Budget
As a local brand here in the country, Weber isn't exactly cheap to own- not even on these compact grills. Yes, the Q series is cheaper than the full-range Spirit and Genesis Equipment But you'll still have to pay a little more than a brand like Cuisinart.
If it's the Weber Q1000, the regular price is usually $229, whereas Q1200 goes for $259. The company does have limited-time deals from time to time, but the Q1000 is still cheaper than Q1200.
Winner: Weber Q1000 is currently $30 cheaper than the Q1200 grill
Best of Accessories
As with any other grill from the brand, the Weber Q1000 and Q1200 come with only limited accessories. In fact, the components with the grills are the porcelain-enameled cast-iron grates and the pan for catching the dripping meat juices.
The grates are two split pieces to make it possible to use a griddle for delicate dishes like pizza and salmon. But the company doesn't send the griddle, which means you'll have to purchase it separately (if interested).
On various community forums, some people have been asking whether it's possible to use a rotisserie with Q1200 and Q1000. But, sadly, none of the attachments from the brand will be compatible with the low height of the lids.
Winner: Both grills as they only come with the split cooking grates and removable drip pan
Best of Design/ Styling
When it comes to the design part, Weber was spot on quality for both Q-Series grills, despite them costing less. They still feel as sturdy as any other machine from the company, starting with the cast aluminum body and lid. So, either can withstand even the highest cooking heat for a long time.
When you now open the lid of your Q1000 or Q1200 grill, there are the porcelain-enameled iron cast cooking grates. And as you may know, this material combination's not only durable, but also offer really good heat retention.
Further, Weber designed the two compact grills with an un-welded D-shaped stainless steel burner tube. So, it's highly resistant to rust corrosion, which the company even covers in the five-year warranty.
But on top of all that, the company has the Q1200 in more colorful choices, including blue, green, red, orange, et cetera.
Winner: Weber Q1200 as it has at least six different finishes to meet your colorful taste
Best of Cooking Space
Weber Q1000 and Q1200 are both winners in this part as they have a similar 189 square-inch total cooking area. Indeed, it's not big enough for a neighborhood BBQ day but can prepare up to six regular burgers in one go.
As was mentioned earlier, you can also remove one of the split grates to put up a Griddle for the Q1000 series. And that will apply to even the Q1200 since they already have a pretty similar layout of the cooking area.
Winner: Both grills as they have a similar grilling area and are compatible with griddle
Best of Burning Fuel
Again, the two Weber grills are winners in this part as they all require (propane) gas as the burning fuel. Of course, the disposable gas canisters can be difficult to screw on the regulator unit from the handle in place. But it's still handy for RV/ campers who don't have or want to carry along the large gas cylinder.
Nonetheless, you can still connect either of the Weber Q grills with an adapter to hook up to your large propane tanks. But the company doesn't provide the adapter, thereby will have to purchase it separately.
Winner: Both grills as you can connect with either the compact propane bottle or large tanks
Best of Grilling Heat
Yet again, Weber Q1000 and Q1200 are winners in this part. The single D-shaped burner I've just mentioned outputs up to 8500 BTU per hour, which is enough to grill and even sear your food.
As a matter of fact, the grills heat up to 600°F in only about sixteen (16) minutes. And that will leave some beautiful grill marks on your steak, burgers, or any other food you're preparing.
Oh, don't the combination of the cast aluminum body and shroud-like design gives the Weber gas grills a good circulation of heat. Thus, your food cook evenly, regardless you're using direct or indirect heat.
Winner: Both grills as they have 8500 BTU heat out and achieve over 600°F temperature
Ease of Use
When we now compare Weber Q1200 vs Q1000 user-friendliness, they both are intuitive. But I'm going to give the points to the upgrade model. Why?
Well, for one, Weber Q1200 has foldable side tables that are good to prepare your food while camping. You can even use the surface to hold your already cooked food while removing it from the heat.
Secondly, the company designed the Q1200 with an external thermometer gauge calibrated up to 600°F. So, it's easier to know when your grill is hot enough to start cooking or searing your food. And as the user, you can also easily track the cooking process, ensuring the internal temperature isn't too hot for your recipe at hand.
Speaking of the internal temperature, the Weber Q1200 has a knob to control the heating temperatures next to the gas regulator. But that's a feature with even the Q1000 to give you better control over your food at low, medium, and high temperatures.
Winner: Weber Q1200 as it has a built-in temperature gauge and side tables
Key Takeaway: Mobile & Adjustable Height
Both Weber Q1000 and Q1200 leave you with the option to work as it's on a flat table or stand. But you could also get the Q portable cart that has it easier to move your equipment around and also operate anywhere (with a proper height).
Common Related Questions
What gas can I use for Weber Q1000?
Unlike the Genesis or Spirit grills, the Weber Q1000 has the option to operate with either a small gas bottle or a large tank. However, the gas you use on the grill must be liquid propane, else it won't light up.
How many burgers fit on a Weber Q1200?
About six regular burgers will fit on the Weber Q1200 and Q1000's cooking area. But you could remove one part of the grates to accommodate three burgers while bacon or salmon cooks on the griddle.
Is Weber Q good for camping?
Yes, indeed, the Weber Q is a good portable grill for camping. It's not only compact enough to carry around, but the disposable propane gas bottles make it easy to work about anywhere.
In Conclusion:
Weber Q1000 and Q1200 are both great gas grills to own for camping or when you have a small space to use at home. They have a sturdy build, heat up quickly, are easy to carry around, and cook meals well.
However, at only a $30 price gap between them, the Weber Q1200 will be more worthwhile to have than the Q1000. The built-in temperature gauge makes it easier to track the grilling temperature while cooking, whereas the side tables give you a surface to work.
But with all that said, you should also remember the gas grill's relatively short on the lid height. So, you can only grill your whole chicken on the grates but won't be able to use a motorized rotisserie.