The Traeger Pro 780 and Ironwood 885 are two of the most efficient grills for outdoor grilling. You will undoubtedly appreciate the gadgets' superior performance.
When comparing Traeger Pro 780 vs Ironwood 885, you can't simply proclaim one to be superior because there are so many factors to consider. They each have unique characteristics that have helped them gain popularity among users.
As a result, a full analysis of the devices should be provided to make it easy for people to select one. This article will clear up any misconceptions you may have about the two gadgets. Analyze the differences and similarities of the two smokers to choose which one is best for you.
Traeger Pro 780 vs Ironwood 885: Features and Specifications
If you're trying to pick the best between Traeger Pro 780 vs the Ironwood 885, you should know the differences. This enables people to find one that meets their needs. Now, we will have a thorough understanding of the powerful smoker's characteristics and specifications.
| | | |
| --- | --- | --- |
| Features | Traeger Pro 780 | Traeger Ironwood 885 |
| Size | 49″W  x  55″H  x  27″D | 54″W  x  47″H  x  27″D |
| Weight of Grill | 155 lbs. | 170 lbs. |
| Max Temperature | 500 degrees F | 500 degrees F |
| BTU's | 36,000 | 38,000 |
| Pellet hopper capacity | 18 lbs. | 20 lbs. |
| Warranty | 3 Year Limited Warranty | 3 Year Limited Warranty |
| Capacity | 6 Chickens | 10 Chickens |
| Frame Material | Stainless Steel | Stainless Steel |
| Grate Material | Porcelain Coated Steel | Porcelain Coated Steel |
| Number of Handles | 1 | 2 |
| Adjustable Heat-Zones | Yes | No |
| Ignition Type | Electrical | Electrical |
| Total cooking capacity | 780 sq in | 885 sq in |
| Warming Rack | 210 Sq.In. | 315 Sq.In. (+ 105) |
| Maximum Temperature | 500 °F | 500 °F |
| Installation Method | Freestanding | Freestanding |
| View details on Amazon | Traeger Pro 780 Price | Traeger Ironwood 885 Price |
Should I Get the Traeger Pro 780 ?
The Traeger Barbecues Pro Series 780 is one of the most adaptable grills on the market. This grill has the all-new D2 technology, which assures rapid performance while maintaining optimal heat. This pellet grill allows you to cook with freedom because it can be linked to your home WiFi. This allows customers to manage their grills from anywhere using their cellphones. The 780 square inches of grilling space makes it easy to cook many dishes at once.
Traeger Pro 780 is unquestionably the best choice for the greatest wood-fired flavors. The appliance has a variable heat control with a maximum heat range of 500°F. With this smoker's perfect temperature control, you will enjoy superior quality smoke. The pellet grill makes it easy to use Alexa to alter the basic functions.
The Traeger Pro 780 is available in two color options. You have the option of choosing between bronze and black variations. The smoker features a normal hopper capacity to offer the user a pleasant cooking experience. You will be able to cook for a whole session without having to refill.
Features to consider in Traeger Pro 780
780 sq of grilling area
Hopper Cleanout
Voice control
Variable-speed fan
Wireless control
Should I Get the Traeger Ironwood 885 ?
Ironwood 885 is another excellent Traeger pellet grill with several unique features. The grill features a large cooking area that will make cooking with your family more fun. The cooking area of the pellet grill is 885 square inches. The Traeger app allows you to modify temperatures, create timers, and monitor your meals. This device's WiFire technology lets users operate the grill from anywhere. Because of the steady temperature, the Ironwood 885 is dependable cooking equipment. This function enables users to cook more precisely.
The Ironwood 885 is a multifunctional gadget with a plethora of capabilities. The gadget contains all of the functions that a consumer could look for when purchasing a pellet grill. This smoker makes cooking easier with its revolutionary hopper cleanout and Pellet sensor. The Traeger pellet smoker uses the Traeger app to remotely check the pellet levels. As a result, you'll always know what's going on with the pellets, and you won't run out of supply in the middle of a meal.
The Traeger Ironwood 885 features double side-wall insulation, which is a unique feature. This function aids the device in improving the temperature and uniformity of the pellets. During chilly weather, your outcomes will be somewhat enhanced. The Traeger Downdraft Exhaust system is compatible with the gadget. The invention protects the food from being overpowered by smokey tastes. You will undoubtedly have the best-flavored cuisine recipes.
Features to consider in Traeger Ironwood 885
885 sq inches of area
Alexa Voice control
Downdraft exhaust system
WiFire enabled
Double side-wall insulation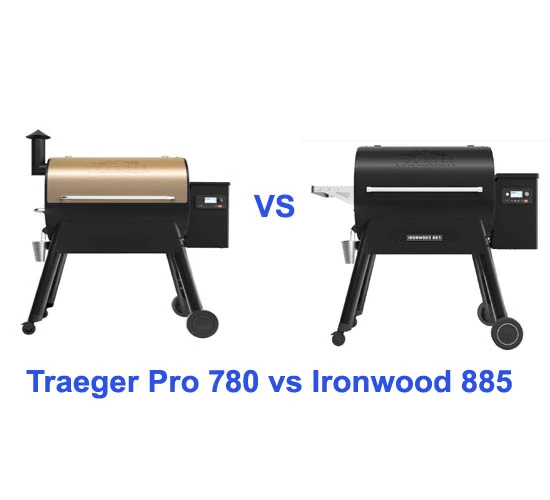 Traeger Pro 780 vs Ironwood 885: The Similarities & Differences between the Grills
Cooking Area
When comparing Ironwood 885 vs Traeger Pro 780 on the basis of their area, Traeger Pro 780, there is plenty of room for cooking. The Traeger Pro 780 has 780 square inches of grilling area, so you'll have no trouble preparing a variety of foods. This one may undoubtedly be an excellent choice for family meals. This gadget is 146 pounds in weight.
Traeger Ironwood 885, on the other hand, offers a bigger cooking area. This gadget has an area of 885 square inches. As a result, you can cook ten chickens or seven rib racks at once. Because of the vast space, you can serve various things without altering your tastes.
Downdraft Exhaust System
This function is not available on the Traeger Pro 780. If you grill on a frequent basis, you will lose out on this function. This is a one-of-a-kind addition to Ironwood 885 that you will adore. The smart design allows old smokes to escape beneath the meal. As a result, your foods will have the greatest wood taste.
These are some of the key distinctions between the Traeger Pro 780 vs Ironwood 885. Ironwood 885 has several special characteristics that may be beneficial in certain situations. That isn't to say that the Traeger Pro 780 is without flaws. This is unquestionably a high-end pellet smoking option.
Temperature Range
In terms of heat, the Traeger Pro 780 will not disappoint. You'll always have a consistent temperature, and the heat is also simple to manage. This pellet has a maximum heat output of 500 degrees Fahrenheit.
Ironwood 885, on the other hand, has the same thermal range. This heat range enables the user to cook and grill according to their preferences. This gadget has a simple heat management system. You're going to love every bite of this item's cuisine.
These essential characteristics are inherited by all smokers. They have the same temperature range. When utilizing smokers, you will have exact heat control.
Recommended for you: Can You Use Traeger Pellets in a Green Mountain Grill
Variant
Traeger Pro 780 is available in bronze and black. The bronze variation features a gorgeous bronze-colored lid. This is recommended for individuals who like different colored pellet stoves than black pellet stoves.
The Traeger 885, on the other hand, is exclusively available in black. A variation with a protective cover is available, which includes an extra cover to protect the entire pellet grill from harsh weather.
Versatility
If you want a flexible pellet grill for various styles of cooking, the Traeger Pro 780 is surely a great choice. The gadget has smart home technologies and can be used in six different ways. On the same grill, you may grill, smoke, bake, and BBQ.
The single gadget provides varied barbeque grilling to make your cooking more fun. This pellet grill will provide you with the greatest cooking experience possible. Traeger Ironwood 885 is suitable for grilling, smoking, roasting, and slow cooking.
Energy Source
Traeger Pro 780 may be operated by both electricity and wood. As a result, you have the freedom to use this gadget whenever you choose. This gadget is appropriate for both indoor and outdoor use.
Unfortunately, the Traeger Ironwood 885 does not work with an electric power source. This pellet should only be used with wood pellets. This won't be an issue if you're intending on using a smoker outside.
Frequently Asked Questions
Does the Traeger Pro 780 have super smoke?
The Pro 780 grills are wonderful, but the absence of a smoke setting is a concern. The Pro 780 lacks some of the advanced capabilities seen in Traeger's more costly versions. There is no Super Smoke, for example, which increases the amount of smoke for a more intense flavor.
Does the Traeger Pro 780 come with a meat probe?
The Traeger Pro 780 pellet grill is built in a highly ergonomic way, and the design is also pretty sleek and appealing to the eye. It has a built-in meat probe that allows you to carefully check the temperature.
Is the Ironwood worth it?
The Traeger Ironwood 885 is a well-designed and easy-to-use pellet grill and smoker. The Ironwood 650 is a high-quality choice with several features. The Ironwood is definitely worth the additional cost. The device's material quality is really high-end and robust.
Our Top Pick
So, in the clash between Traeger Pro 780 vs Ironwood 885, Ironwood 885 is undoubtedly the winner as the Ironwood Grill exceeds the Pro Grill in every aspect, and you will not be disappointed if you purchase one. The Ironwood 650 is by far one of our favorites grills, and if you are undecided about which one is superior, We would strongly recommend the Ironwood 650 grill. In terms of additional features and power, both grills can pack a punch on your cuisine that no other grill can.