Weber is a name that resonates with grilling enthusiasts everywhere. Known for their quality and performance, they continue to impress with their diverse range of products. One such model that has caught our attention is the Weber Q1000. Let's dive deeper into what makes this model stand out.
Key Features
Compact and Sleek Design: The Weber Q1000, with its dimensions of 16.5″D x 27″W x 14.5″H, is designed for those with limited space but an unyielding passion for grilling. Weighing just 27.5 pounds, it's a lightweight option without compromising on performance. Its titanium finish, accompanied by a painted exterior, ensures it's not just functionally superior but also aesthetically pleasing.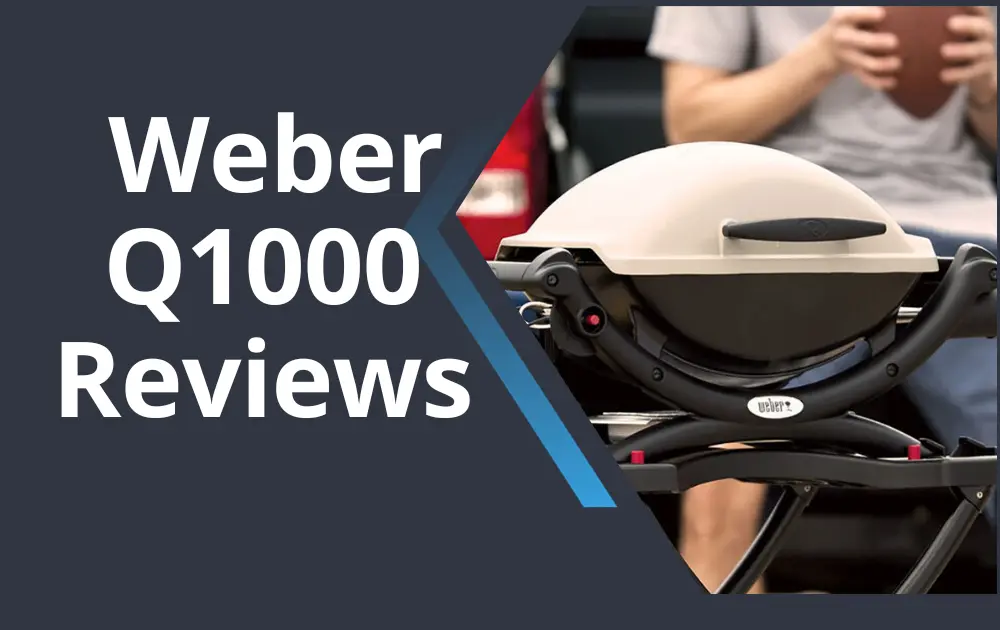 Performance and Heating: This grill boasts an impressive 8500 British Thermal Units of heating power, ensuring that your meats and veggies get the searing they deserve. The durable stainless steel burner guarantees longevity, while the single heating element ensures even cooking.
Cooking Experience: The porcelain-enameled, cast-iron cooking grates are perfect for holding heat and ensuring those beautifully charred grill marks on your food. The push-button ignition means you're ready to grill at a moment's notice, and once you're done, the removable catch pan ensures cleaning up is a breeze.
Build and Durability
Constructed using a blend of porcelain, stainless steel, aluminum, and cast iron, the Weber Q1000 promises durability. The stainless steel frame reinforces its strength, making it a reliable companion for your outdoor cooking adventures. Its tabletop installation feature ensures it's versatile enough for both backyard BBQs and camping trips.
Ease of Use
One of the most impressive features of the Weber Q1000 is that it requires no assembly. This is especially great for those of us who want to get straight to grilling without the fuss. Powering its ignition is a single AA alkaline battery, making start-up hassle-free. With a voltage consumption of 1 and wattage at 27 watts, it's energy-efficient too.
Manufacturer and Origin
Crafted with care by Weber, a brand synonymous with quality grilling, the Q1000 stands testament to their commitment to excellence. And for those who appreciate products with an American touch, you'll be pleased to know it's made right in the USA. For reference, its model name and part number is 50060001.
Warranty and Support
To back their promise of quality, Weber offers a 5-year limited warranty on the Q1000. This not only speaks to their confidence in the product but also provides users with peace of mind.
Here is the comparison with other 3 weber model
| Feature/Model | Weber Q1000 | Weber Q1200 | Weber Q2000 | Weber Q3200 |
| --- | --- | --- | --- | --- |
| Dimensions | 16.5″D x 27″W x 14.5″H | 20.5″D x 40.9″W x 24.6″H | 24.3″D x 51.4″W x 26″H | 30″D x 50.2″W x 55.5″H |
| Weight | 27.5 Pounds | 1.03 Pounds | 42 pounds | 37.6 Kilograms |
| Finish Color | Titanium | Aluminum | Painted | Painted |
| Heating Power (BTUs) | 8500 | 8500 British Thermal Units | 12000 British Thermal Units | 6.36 Kilowatts |
| Burners | 1 | 1 | 2 | 2 |
| Ignition Type | Push Button | Push Button | Push Button | Electronic |
| Cooking Grates Material | Porcelain-Enameled, Cast-Iron | Cast-Iron | Cast-Iron | Porcelain-enameled cast-iron |
| Assembly Required | No | No | No | Yes |
| Warranty | 5 Years | N/A | N/A | N/A |
FAQs: about Weber Q1000 Reviews
What type of ignition does the Weber Q1000 use?
Answer: The Weber Q1000 utilizes a push-button ignition system. This makes starting up the grill quick and hassle-free. It is powered by a single AA alkaline battery.
Is the Weber Q1000 suitable for tabletop use?
Answer: Yes, the Weber Q1000 is designed for tabletop installation. Its compact size and design make it ideal for both backyard BBQs and taking on-the-go for picnics or camping trips.
What is the warranty period for the Weber Q1000, and what does it cover?
Answer: The Weber Q1000 comes with a 5-year limited warranty. This warranty covers any defects in material or workmanship. It's always recommended to check the warranty card or contact Weber directly for specific details and coverage.
Conclusion
The Weber Q1000 is more than just a grill; it's a statement of style, efficiency, and performance. Its compact design paired with its powerful features makes it a must-have for anyone looking to elevate their grilling game. Whether you're a seasoned grill master or a newbie, the Q1000 promises an experience that's both enjoyable and delicious.
---
I hope this article captures the essence of the Weber Q1000 and provides potential buyers with a comprehensive understanding of its features and benefits!