How many years should it take before your grill start to ask for repairs? Sadly, many people have expressed issues with their cooking systems in the first year of owning or even less. But in some cases, the users are usually at fault. Hence, the reason I've thought it'd be nice to share a few tricks on how to make a gas grill last longer.
Some of the tips are universal and can apply to even a charcoal grill. But in comparison, a gas grill should last longer, considering its firebox doesn't have direct contact with hot coals.
Accessories such as the drip pan and the flavor bars on the likes of Weber Genesis II E-315 and E-335 also help enhance the grill's longevity.
Why Should I Care About How Long My Gas Grill Lasts?
A premium and durable gas grill can surely be an oasis of glee for your family or neighborhood barbecue day. No, I'm not implying you should spend all your life savings on the cooker.
You can still get a decent grill under $500 that may even outlive some of those exaggerated brands at $1000+. But, of course, you'll need to put more effort into the care and maintenance of the product.
Proper care is one of the measures to make sure your gas grill can last for a long time. And like any other system, the various ways you can benefit from a long-lasting grill include:
Justify the investment
It's usually heartbreaking to spend $500+ or even $200 on a grill that breaks down after only six uses. It will be even more vexing if your friend made a much cheaper purchase, yet it outlives what you have.
But if the gas grill lives longer than you've anticipated, it will be a worthy investment at the end of the day. It will be actually a joy to go back to the same brand.
Whoever said "cheap is expensive" was never wrong. Many (not all) of the cheap gas grills in the market usually have inferior build and materials. You'll be lucky to go for two or one year without having to repair or replace something.
But for a quality, long-lasting grill, the repairs are usually less, and so are their costs. It will also save you a lot of time that you'll spend doing the work or running to the store for replacement parts.
Technically, a long-lasting grill will have premium construction materials and craftsmanship. It provides optimal cooking convenience that you may need to ensure a memorable BBQ day.
A quality, durable gas grill is also important in maintaining the various safety standards required when cooking. Things like a spoilt burner or gas regulator can easily start a fire outbreak. Then broken metal pieces can cause dangerous lacerations to you or other people nearby.
If you have a grill that will last long, it simply means you won't have issues like rust in the cookbox and cooking grates. Thus, a big plus on meeting your goal of a healthy eating habit with no risk of food poisoning.
Looks and feels nicer to own
If you have a long-lasting grill, it should also be able to maintain both good performance and beauty for a long time. In premium products, which usually last longer, you'll have sleek styling and special aesthetic touches, such as illuminated knobs and interior lighting. So, the appliance will be a pride to own and use.
Finally, it will be calming to own a long-lasting gas grill that doesn't need regular repairs. It also won't be worrying about safety and you'll rest with a smile knowing your investment was all worthwhile.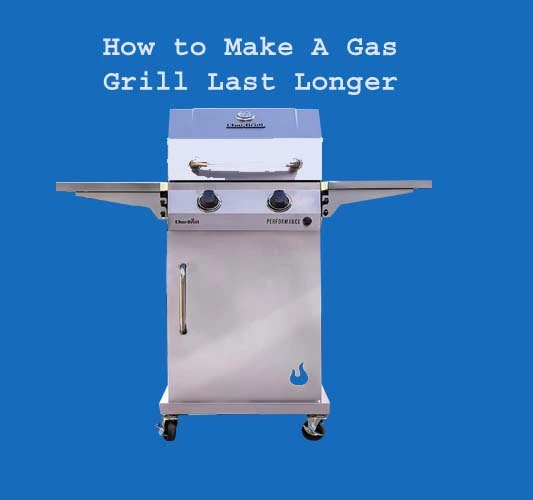 Factors That Affect How Long Your Gas Grill Can Last
Various things determine the life expectancy of a gas grill, and they include:
Poor craftsmanship: a poorly designed grill or where the manufacturer thrives on shortcuts will certainly have a short lifespan.
Inferior material: a gas grill built with cheap materials will also have a shorter life expectancy than one with heavy-duty parts
Improper use: a large percentage of consumers have their gas grills breaking down early for failing to use accordingly. For instance, the control knobs will no doubt lose their threads and break the tabs after forceful use. Or the side tables we have on brands like Char-Broil and Broil King will break on too much weight.
Poor Care practices: if you don't clean your gas grill regularly, you're just encouraging rust, which is the main enemy of durability.
Lack of maintenance: your grill is also a rust magnet if you usually don't do the seasoning.
Poor storage practices: many people usually remember their grill only when they want to use it. They don't bother if the appliance is still covered, away from the path, or with no bulky baggage piled on it. And these are all simple things that affect durability.
How To Make A Gas Grill Last Longer
Simply, the trick to making your gas grill last longer comes down to addressing the issues that affect its life expectancy. They include:
Investing in a High-Quality Grill
The first step to ensuring your gas grill will last up to ten years or more while still operational will be investing in a premium product. After all, different brands usually create their products with varying types of materials that usually break down differently.
For instance, premium stainless steel grills like Bull and Blaze should serve you at least five years without developing any significant issues. The body, lid, cooking grates, flamer tamer, and drip pan should all take longer to catch rust than those on cast iron.
Ceramic grills are usually durable as well if you can manage to be careful. But, sadly, the material is mostly on brands that use charcoal as the fuel, such as Primo and Kamado Joe.
Use your Grill Accordingly
True, your grill may fail to even complete one calendar year if you're not using it well. If we say the igniter and physical knobs that control the heat, you should always use them gently without force.
The side tables should also not be used for too heavy loads. Then, the flavorizer bars (or flame tamers) should always be over the burners before every use to prevent the tubes from clogging.
Clean the Grill Regularly
As with any other machine, you'll have to take care of your grill for it to take care of your needs. The care package mostly revolves around cleaning the cooking grate, flame tamers, and drip pan with warm, soapy water after every use.
Your grill's exterior and cooking box will also need regular wiping (with a wet sponge) to curb rust. Then for the burners, you can use a wire brush to scrub the surface and a straw/ pipe cleaning brush for the tube.
Also, Season your Gas Grill Regularly
Yes, indeed, you'll need to season the cooking grates of your gas grill regularly. A lot of users do it only for a new machine, but it also helps protect the old ones from attracting rust.
Seasoning a grill is more or less like oiling your bike. Or do you oil the chain only after unboxing your brand-new bike?
Any problem with your grill should be fixed early before becoming a major issue. For instance, a wobble means your grill has some loose parts that need tightening and any missing screws replaced.
Damaged physical knobs and parts of the gas regulator control should also be replaced immediately from the risk of starting a disastrous fire.
You should also replace the flame tamers that have aged too far before their ineffectiveness compromises the burners.
Furthermore, I'd recommend you repaint the exterior areas where the paint has started to peel off as soon as possible. Otherwise, rust will start eating up your machine, and you'll end up spending more than you could have.
Put on the Cover When Not in use
You'll also want to make sure your grill is always under the cover to protect against harsh elements like rain. Even under the roof of your patio or garage, the covering can help keep out dust and debris that would clog the burners.
Use Tinfoil where Necessary
In cases where you're working with messy (oily) and sticky BBQ foods, I'd recommend using aluminum foil. Of course, the trick won't apply to all methods of cooking. But where applicable, it can help keep the grates clean (or easier to clean) and free of rust.
Keep your Gas Grill off while not in use
If you've never given it much thought, the life expectancy of many parts of your grill drops on each use from heat. So, you might want to turn off your grill when not in use to prevent overheating of these parts. You also save gas in the process.
Inspect your grill health regularly
Last but not least, check on your gas grill regularly to identify any potential problems that may be developing. You'll get to solve the common flaws early before becoming serious issues that may be impossible or expensive to repair later.
Replace the Grill if Needed
In truth, there's no definite answer on when your gas grill should last. But if you have a high-quality brand, you can enjoy your yummy ribs for up to ten years without ever having any serious issues.
However, you can expect to replace small parts like the igniter (most common to fail) and knobs sooner. Then again, even the manufacturers don't support these parts of the gas grills with a lengthy warranty: one year in most cases.
All in all, even the sweetest apple tree dies at some point. Thus, be ready to replace your gas grill when it starts giving up on its duties. Some of the signs to watch include lack of enough flame to cook, gas leakages, difficulty maintaining even heat, and visible exterior damages.