Investing in the best charcoal grill is the first step to enjoying a classic BBQ with family and friends. But while in the market for such a grill, who should you choose between Primo vs Kamado Joe?
Well, first, these two brands aren't like most of the other grill companies. They usually deal with ceramic charcoal grills, which you should know retain heat better than metallic designs. Thus, you can maintain a lengthy steady temperature for even cooking.
Verdict: 5 Reasons Kamado Joe is the Best Grill
The Kamado Joe grill has a larger firebox
The Kamado Joe grill has a larger cooking area
The Kamado Joe grill has a pull-out ash collector try
The Kamado Joe grill comes with a heat deflector plate
The Kamado Joe grill has an exclusive smoking chamber
Primo vs Kamado Joe: A Summary of the Ceramic Charcoal Smoker Grills
Both Primo and Kamado Joe have a wide variety of Ceramic charcoal grills to choose from for your barbecue needs.
In this review, though, I'll primarily focus on the Primo 774 and Kamado Joe Big Joe 2.
Primo

vs

Kamado Joe
Image


Primo 774 Ceramic Price


Kamado Joe Big Joe 2 Price
Grill Series
Classic Joe
Classic Joe
Configurations
Standalone
Standalone
Dimensions in inches (w/ shelves out)
21.5 x 21 x 24.5 inches

27.6 by 35.7 by 35.3
Finishes Options
Black
Blaze Red
Type of Fuel
Charcoal
Charcoal
Main Cooking Area Cooking Area
360 Square Inches
Approx.450 sq. inches
Secondary Cooking Area
210 square inches
Approx. 700sq. inches
Cooking grates Material
Porcelain-enameled
Stainless Steel
Highest Grilling Temperature
Up to 750°F
Up to 700°F
Rotisserie Kit Included
NO (but compatible)
NO (but compatible)
Control Type
Yes
N/A
Temperature Gauge
YES
YES
Best Features
Slightly cheaper, innovative reversible cooking grids, & an optional firebox divider
Spring-assisted hood, fiberglass gasket seal, & optional charcoal baskets
Supported Cooking Methods
Grilling, roasting, searing, frying, smoking, & baking
Grilling, slow-roasting, searing, frying, smoking, & baking
Warranty
20-year warranty for all ceramic parts
N/A
Details






Kamado Joe Ceramic Grill
Do you like the idea of the Kamado Joe Classic 2 and 3 but need even better cooking convenience? Check out the Big Joe 2 if you won't mind adding a few bucks.
It has many features similar to the Kamado Joe Classic-series, for sure. But now comes with a larger cooking area- approximately 450-square-inches on the main grates, which you can accommodate 18-22 burgers in one run.
Even better, the grill has a two-tier divide & conquer cooking system that can take two sets of cooking grids. Then, you could get the optional Big Joe Grill Expander for more cooking space.
Pros:
It's quick to set up
Smokes food really well
Can do direct & indirect cooking
Comes with some helpful grill tools
It has a well-built, durable design
Cons:
The grill's so heavy to lift/ carry alone
It might take a while to learn temp control
Primo Ceramic Grill
 Primo is a great brand if looking for a high-quality Kamado charcoal smoker grill. The company does all the production processes in a facility right here in the USA- Tucker, Georgia. So, we should expect its product to stand out from most of the other competitors.
As for our Primo 774, it has the signature oval design, which is usually easy grilling full briskets or fish. And at a total area of 360-square-inches, the main cooking grid can have 16-20 burgers with enough space to flip.
Furthermore, the Primo ceramic cooker has a porcelain-enameled cooking grid that not only has a high rust resistance. But also retains heat well and it's usually non-stick while cooking.
Pros:
It has a sturdy, durable build
Sears and smokes meat well
Can do direct & indirect cooking
Has an option extension grill rack
It's easy to track the cooking temperature
Cons:
The grill's also heavy to lift by yourself
It doesn't come with most crucial accessories
Primo vs Kamado Joe: Crucial Differences to Know before Buying
Here's a recap of the various features and capabilities of our two ceramic charcoal grills.
Best of Budget
Technically, neither Primo nor Kamado Joe fits the bill if you're in the market for a cheap charcoal grill.
The cheapest Primo Oval Junior I've been able to find is currently going for around $900 without the cart. Then, our reference 778 extra-large design needs at least $1,500 on the freestanding model or plus $380-$850 with a cart.
As for the Kamado Joe, you'll find a relatively larger products catalog, including the Junior series from as low as $340. But the Big Joe 2 is a little more expensive, costing up to $1,800 for the freestanding model or $2,000 with a cart.
As our two reference models are all freestanding (standalone) designs, Primo would save you at least $300 over the Kamado Joe. But is the amount worth it?
Best of Accessories
Despite the high price tag, Primo and Kamado Joe don't exactly provide all the cooking accessories you need. You'll have to purchase some parts separately, and they're quite crucial if you want to make the most of your grill.
For instance, the Primo XL Oval grill comes with only the cooking grates. Thus, you'll have to purchase the heat deflector plates, firebox divider, lower heat rack, grate lifters, and ash tool separately.
You could also get the optional extension cooking rack, pizza stone, rib rack, and griddle for extra versatility in your cooking. Then, there's a cover to help protect your Primo cooker from elements while not in use.
As for the Kamado Joe grill, you'll receive the cooking grid alongside the 2-tier divide & conquer cooking system and heat deflector. It also comes with a complimentary package of a grate gripper and an ash removal tool, all together saving you almost $200.
Kamado Joe also has a few optional accessories if you'd like to make the most with your Big Joe 2 grill. They include a grill expander, pizza stone, griddle, and a rotisserie kit to assist in the cooking process. Then, a charcoal basket and the exclusive Slo-Roller Hyperbolic smoke chamber to enhance the overall grill performance.
Oh, yes, you can also purchase a cover to protect your Kamado Joe grill from harsh elements and enhance its longevity.
Best of Build Quality
As I've already mentioned, Primo and Kamado Joe exclusively deals with ceramic grills. The entire (kettle) base is a thick ceramic material, and so is the inner firebox.
However, the firebox of the Primo grill is a single, oval-shaped piece. But it does have an extra ceramic plate to protect the bottom from the excess heat of the burning charcoal. The said charcoal will be sitting on a cast iron charcoal grate, which no doubt is susceptible to rust if neglected.
As for the cooking grates, Primo has made them of steel with a porcelain coating. Thus, are easy to clean and highly resistant to rust, provided this coating doesn't wear off or get damaged.
On its end, the Kamado grill has the cooking grates in 304 stainless steel, which is more resistant to corrosion than cast iron. It also has the patented Ash Draw, firebox ring, and the latch for the hood in stainless steel as well. Then, the charcoal grate is cast iron, though you could get the optional stainless steel (charcoal) basket if desired.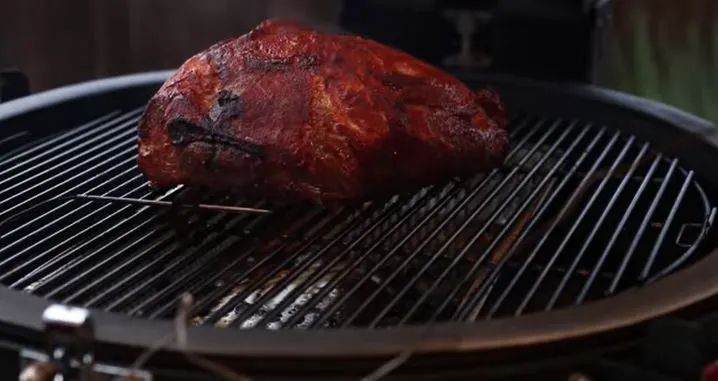 As for the product support, Kamado Joe warrants a limited lifetime warranty on the ceramic parts of the Big Joe grill. Then, a 5-year warranty on the metal and cast iron parts, whereas the thermometer and other miscellaneous components get two years.
In other words, this would mean Primo USA isn't the best at after-sale support. It offers the grates and cast iron parts with a one-year warranty, whereas the thermometer gets support for only 30 days.
The parts of the Primo grill in stainless steel and aluminum have a decent warranty of five years. Then the ceramic parts have the longest support- 20 years.
DIY Setup
Compared to the metal grills like Broil King and Napoleon, a ceramic grill usually have fewer parts to put together.
For instance, the Primo Oval Junior has the base, firebox, bottom plate, domed hood, charcoal grate, and cooking grids. But the assembled cooker weighs about 200 pounds, thereby will require two people to load it into the cart.
The Kamado Joe Big Joe 2 will wear you out a little more as it's heavier (300+ pounds) and larger in dimensions. It also has slightly more parts to arrange into the base, including the 6-piece firebox walls, base plate, consolation ring, charcoal grate, and ash drawer.
Similar to the Primo XL, the Kamado Joe grill also has add-on side tables you can attach to prep your food. Then, you could also get the optional cart and screw on the legs with the swivel casters or ceramic feet.
Best of Charcoal Hopper
Technically, there's no mention of the hopper capacity in both Primo and Kamado Joe Big Joe 2. But they cook directly on charcoal, unlike a smoker like the Masterbuilt 800 or 1050 that does it indirectly.
So, you'll have to load the coal into the firebox. And since Kamado Joe has a slightly larger firebox, it will also hold a little more charcoal than the Primo grill.
Furthermore, the Big Joe has a pull-out ash drawer that makes cleanup easy. Then, there's an optional "Kick ash basket" you can get to ensure an even faster cleanup of the ash into that collecting tray.
Sadly, the Primo grill doesn't have a collector tray for the ash. But there's an optional charcoal basket you can purchase if you feel the provided grate isn't efficient enough.
Best of Performance
As I've mentioned severally, charcoal grills don't heat up as fast as their gas counterparts. However, it's possible to achieve 350°F in twenty-five minutes or less with good charcoal and airflow.
Both the Kamado Joe and Primo grill have a bottom damper (called draft door in Primo cookers) to blow in air from underneath. Then, a top vent regulates the airflow from above.
The top and bottom vents will also act as the control for the cooking, whereby closing them lowers the temperature. Then, opening the vents will increase the airflow and raise the temperatures.
Either of the charcoal grills has a lid-mounted thermometer to help you track the temperature inside the cookbox. But unlike with the gas grills, you'll notice the effects of the adjustments to the airflow vents after 10-15 minutes.
Also, it might take some time to learn to adjust the temperature of your Primo or Kamado Joe grill, especially at under 300°F. But after achieving the desired temperature, your grill can maintain that setting for six hours and over, courtesy of the ceramic build.
Best of Cooking Convenience
On the Kamado Joe vs Primo grill cooking convenience, the former takes all the points. The first reason for this is the extra accessories that come with the grill, specifically the heat deflector plates to set indirect cooking.
Secondly, the Big Joe grill comes with a 450-square-inch cooking grate, which accommodates 2-3 more burgers than the Primo Oval Junior. Then, there's the optional SlōRoller smoking chamber insert that will leave your food with a richer smoky flavor.
The Kamado Joe grill also has an optional rotisserie to slow-roast chicken, baking stone, and griddle for delicacies like bacon. Then again, Primo has these three accessories available for the 774 grills as well.
You can also enjoy a nice smoked brisket or fish with the primo grill. But the heat deflector plates and firebox divider needed for the task come as separate add-on accessories.
Final Thoughts
Performance-wise, the Primo and Kamado Joe extra large grill perform about the same. You can grill, roast, sear, smoke, fry, and even bake if the right accessories are available.
However, the Kamado Joe grill usually comes with heat deflector plates as part of the main accessories. So, you can enjoy a nicely-smoked beef, chicken, or pork right away after assembling.
Another thing, the Kamado Joe grill has its gasket in a thick wire mesh fiberglass material. Thus, will support your cooking with an air-tight seal for many years.
But even with all that, don't forget Ceramic parts of either the Kamado Joe or Primo grill are still fragile. Be extra careful when working with the heat deflector plates and also keep off cold water when hot.