A three-burner grill is one of the best options for both direct and indirect cooking. In this guide, we're going to compare Char Broil vs Broil King to see which of the grills has the right features for your needs.
The pair are American brands that have been in the market for quite a long time. And for that, we would assume their grills to have a stellar quality that won't disappoint you or your guests. But then, is that any true in reality?
Verdict: 5 Reasons Char-Broil is my Favorite Grill
The Char-Broil grill is relatively cheaper
The Char-Broil has non-stick cooking grates
Char-Broil grill has a larger cooking area
The Char-Broil grill has high resistance to rust
The Char-Broil grill has a side burner for other cooking
Char Broil vs Broil King: Summary Features & Specs of the Gas Grills
Char Broil

vs

Broil King
Image


Char-Broil Classic 360 Price


Broil King S320 Price
Family
Classic-Series
Baron- Series
Type of Fuel
Propane Gas
Propane Gas
Dimensions in inches
24 by 51 by 43.5
24 by 50 by 45.5
Main Cooking Area
347 sq. inches
334 sq. inches
Secondary Cooking Area
170 sq. inches
110 sq. inches
Main Cooking grates
Porcelain-Coated
Cast Iron
Number of Burners
Three
Three
Total Heat Output
30,000 BTU-per-hour
30,000 BTU-per-hour
Max. Grilling Temperature
Up to 500+°F
Up to 600+°F
Rotisserie Kit Included
N/A
NO
Control Type
Physical Knob
Physical Knob
Built-in Igniter
YES
YES
Temperature Gauge
NO
YES
Best Features
Side burner, fixed side shelf, plus porcelain-coated cooking grates & top lid
A clean stainless steel design, foldable side tables, & a closable cabinet
Standard (Free) Warranty
5 Years
10 Years
View Details






Char-Broil Grill Reviews
Char-Broil is a great brand if you're looking for quality grills. The Classic 360 is one of the best 3-burner gas grills from its catalog and an excellent option if you don't want to break the bank.
We could say the heat output in the main cooking area is the selling point of the grill. But the side burner is also handy as you could use it to boil water for crabs or fry your chopped veggies.
Furthermore, the Char-Broil grill has porcelain-coated cooking grates, warming racks, and a lid. Thus, easy to clean and also highly-resistant to rust than rolled steel or even cast iron options.
Other pros and cons of the Char-Broil grill include:
Pros:
It heats up pretty fast
Has casters for easier mobility
Can cook for four to five people
Include a side shelf to prep your meal
The control knobs are smooth to operate
Cons:
It's tricky to use a Rotisserie
The flavor bars don't fit firmly
The grates spacing is too far apart
Broil King Grill Reviews
Are you looking for a grill you can efficiently use a Rotisserie kit? If yes, the Broil King Baron S320 could be a nice pick if you'll manage the few cons.
The gas grill has a thick lid, which you should know retains the heat in the cooking box better than light lids. Then, it also has a nice setup to hook and operate a rotisserie without a hassle.
At a 330-square-inch main cooking area, the Broil King grill can accommodate sixteen burgers with enough space to flip. Then, the warming rack can hold four corns or seven sausages.
Other pros and cons of the Broil King grill include:
Pros:
It's so easy to light
Has foldable side tables
Features a lid-mounted thermometer
It has a bottom cabinet with a door
The three burners have individual control
Cons:
It's a bit pricey to own the grill
Quite a hassle to assemble the various parts
The cooking grate is highly susceptible to rust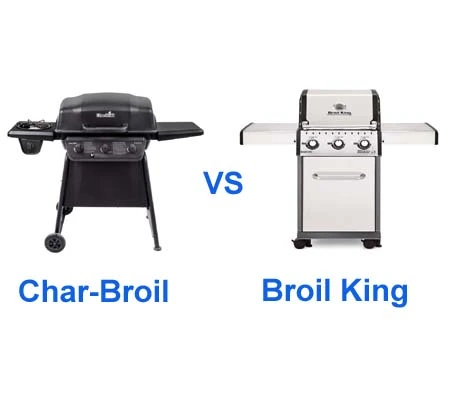 Char Broil vs Broil King: Comparing the Features & Capabilities of the Gas Grills
In this section, we'll now look at how Char-Broil Classic 360 compares to Broil King Baron S320 in features and performance.
Fans Favorite
Both brands no doubt have a wide customer base. But Char-Broil is more popular than the Broil King here in the U.S.
For instance, our Char-Broil Classic 360 has 2,000+ recommendations on Amazon and 130+ at Lowe's. But the Broil King Baron S320 has less than three hundred combined positive reviews from the two stores.
Pricing
Char-Broil Classic 360 is a perfect example if looking for a decent gas grill under $500. However, the actual price varies from one retailer to the other, with Amazon selling at $324 without the promotional offers.
Sadly, the pricing on the grill is a hundred bucks more expensive than the cost back in 2019. But it's still way cheaper than the Broil King S320 that you'll have to put down $830.
Cooking Accessories
The Broil King is the winner in this part. Thanks to the tall lid, you can attach a motorized rotisserie to slow-roast your chicken.
However, Broil King will only send the grill with the main cooking grates. You'll have to purchase the rotisserie kit and the grilling tool set separately, as with the Char-Broil grill.
Well, I'm not even sure you should purchase a rotisserie for the Char-Broil 360 as it'll all be a pain to put and even use. The top lid is relatively low, plus you'll have to create space on the side for the motor.
Note: Neither Char-Broil nor Broil King grill claim compatibility with a flat griddle like the Weber Q1200 or Q2200. So, you might want to look elsewhere if you wanted such a grill.
Build Quality
As was mentioned earlier, Broil King and Char-Broil are both American-based manufacturers, thereby we'd expect them to have premium products. And, to be honest, part of this is true.
If it's the Char-Broil Classic 360, the grill looks and feels sturdy. It has a steel body but the lid and firebox have a light coating of porcelain. So, you will never have to worry about rust issues- but you still need to cover it to protect against the elements.
The heat tents (flavor bars), cooking grate, and warming rack of the grill are also porcelain-coated, which makes it easier to clean. Then, the burner tubes are stainless steel.
As for the Broil King, the whole unit has almost an entire "stainless steel" construction, including the firebox, burners, heat tents, and side tables. But it's seemingly not the best quality as many users have had issues with these parts rusting out in less than five years.
The cooking grates themselves are susceptible to rust since it's cast iron. So, you'll need to clean and season them well to serve you for some years before needing to replace them.
DIY Set-Up
Like most stand-up grills, the Char-Broil Classic 360 and Broil King S320 come boxed up in many parts apart. And for that, you'll need to put them together before you can start grilling.
Sadly, the assembly manual on either of the gas grill is only graphics. So, you might find it frustrating to follow at some point.
But at the end of the day, you can expect to spend up to two hours setting up the Char-Broil grill and three for the Broil King model. And if that's still too much work, you can hire someone who can put together the equipment cleanly and professionally.
Performance
First up, both the Char-Broil 360 and Broil King S320 burn on propane gas. And for that, they heat up much faster than their charcoal or pellet counterparts.
Secondly, the two grills have three burners in the main cooking area and also burn at the same rate- 30,000 BTU per hour.
The main cooking surface also reaches over 500°F, but the Broil King does have a lid-mount thermometer. So, it's easier to know when your grill is hot enough to use or has the right temperature for your food.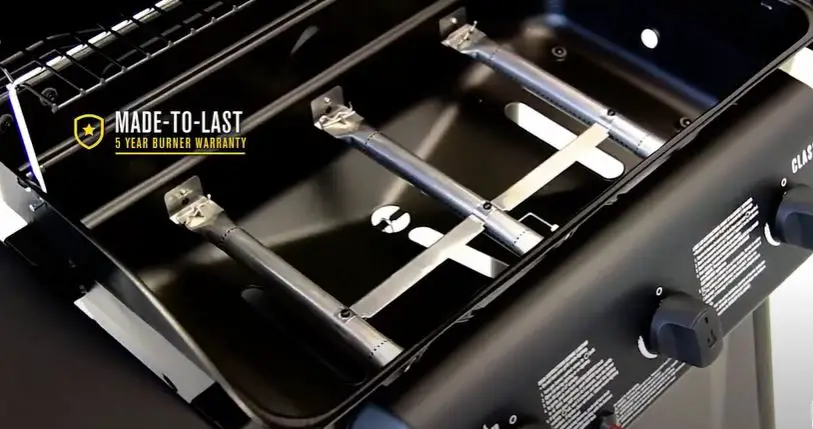 The cast-iron grates and thick lid of the Broil King grill also have higher heat retention than the Char-Boil model. But you'll still need to be careful with the gas controls as the grill is too hot even at a seemingly low setting.
As for Char-Broil, the lid and cooking grates are slightly thin compared to the Broil King grill. So, the heat retention isn't the greatest, but your meat will still cook and with a lower risk of getting burnt.
Another thing, the Char-Broil Classic 360 is also a bit lacking in the range of heat settings. So, you must be careful with the controls not to leave it too hot for your cooking.
Cooking Convenience
The two gas grills have an almost similar cooking area. But the Char-Broil is larger by about 73-square-inch since the grate and warming rack are also longer by a few inches. You can efficiently cook up to eighteen burgers (on the main grate) and five corns (on the top rack) in one run.
The heat tents of the grill are also handy in vaporizing the dripping food juices, giving your food an extra smoky flavor. Then, the side burner can be great for your pot of water or a frying pan for the eggs.
Sadly, however, the Char-Broil grill lacks nice support for a rotisserie kit. So, you might want to check out the Broil King S320 if you plan on roasting whole chicken regularly.
Furthermore, the cooking grates of the Broil King grill leave deeper sears on the steak and burgers. Then, you should remember the cooking box has better heat retention, thereby your food will cook slightly faster.
As was mentioned earlier, the Broil King unit does have the heat tents to add your food with a unique smoky flavor. Then, you also get more built-in working space and a cabinet to keep your gas tank out of sight.
Common Related Questions
Is Char Broil a good brand for barbecue?
Yes, indeed, the Char-Broil 360 is a good grill to barbecue your steak, burgers, drumsticks, hotdogs, sausages, and other foods. It has porcelain-coated cooking grates that are non-stick and easier to clean than cast iron.
Who is Broil King made by?
Broil King is a brand by Onward Manufacturing Company, headquartered in Ontario Canada. But they manufacture some of the grills in their facility here in the United States (Huntington Indiana and Dickson Tennessee).
How long do gas grills usually last?
A good, high-quality gas grill can last for a decade and longer with proper care and maintenance. The care practices include proper cleaning, seasoning, and covering with a waterproof cover during storage.
To Conclude:
Both Char-Broil and Broil King are great options when looking for a stand-up grill that you can cook for five or more people. The three burners of the grills also have individual temperature control. So, it's possible to do indirect cooking while utilizing select burner/s.
Nonetheless, the Char-Broil grill still has a slightly larger cooking space, high resistance to rust, and a side burner. Thus, it's still my favorite pick and recommendation if you're okay without a rotisserie and the lid-mounted thermometer.