How would you like your next grill? A 4 burner gas grill is usually a nice pick if looking for optimal control and versatility in your cooking. And in this review, we'll be comparing Bull vs Blaze grill features and capabilities to see how they stand out.
But as with any other comparison we've done so far, the two 4-burner grills will definitely display mixed convenience. So, the question of the best investment varies with WHO can make YOU look forward to grilling. And in my case, Blaze is the "WHO"!
Verdict: The 5 Reasons Blaze grill is the Best
The Blaze grill has heat zone separators
The Blaze grill has a separate rotisserie burner
The Blaze grill has control knobs with backlit light
The Blaze grill supports an optional infrared searing burner
The Blaze grill supports most parts with a lifetime warranty
Bull vs Blaze Grill: A Summary of the 4-Burner Gas Grills
Bull

vs

Blaze Grill
Image


Bull 4 Burner Price


Blaze 4 Burner Price
Grill Series
Lonestar
Premium LTE
Assembly Design
Built-in (island)
Freestanding (cart)
Type of Fuel
Natural Gas
Liquid Propane
Dimensions in inches
24.13 by 32.25 by 21.25
25.75 by 56.25 by 57.25
Main Cooking Area
600 sq. inches
531 sq. inches
Secondary Cooking Area
210 sq. inches
184 sq. inches
Cooking grates Material
Stainless Steel
Stainless Steel
Total Main Burners
Four
Four (+ infrared rotisserie burner)
Total Heat Output
60,000 BTU/ hour
60,000 BTU/ hour
Grilling Temperature
Over 600°F
Over 600°F
Rotisserie Kit Included
NO (purchased separately)
NO (purchased separately)
Control Type
Physical Knobs (no night light)
Physical Knobs (w/ night light)
Built-in Temperature Gauge
Mechanical (Analog)
Mechanical (Analog)
Interior Lights
YES
YES
Best Extra Features
Relatively cheaper, larger cooking area, & a smoker box
Infrared burner, heat zone separator, & side tables
Details






Should I Get Bull Grill?
Are you looking for a reasonably-priced premium grill you can efficiently cook for six to eight people? Will you be okay to build your system on the island?
If the answer to the two above questions is a yes, the Bull Lonestar Select could be a nice grill for you. It has a 600-square-inch area on the cooking grates, where you can prepare 25-30 burgers with ease.
Then, the said cooking grate and firebox comprise a 14-gauge 304 stainless steel material that the company covers on a lifetime warranty. So, you should be able to operate for many years, provided the other (electrical) components are working fine.
Should I Get Blaze Grill?
Are you looking for a high-quality grill you can efficiently cook at different temperatures with the best control? Would you also love to sear and roast your meat on an infrared burner?
If that feels like what you need to BBQ, check out the Blaze BLZ-4LTE2 grill. It not only has the infrared rear burner for the rotisserie area. But you can also add an infrared searing burner to decorate your briskets with deep sear marks while keeping them tender and juicy.
The Blaze grill also has each of the burners with a separate control knob that you can adjust low and high-temperature levels. Then, there are also 443-grade heat zone separators to successfully sear on one side while the veggies slow-roast on the other end.
More on that, read on the Blaze vs Bull grill features and performance comparison below. It covers the most crucial parts of any BBQ grill.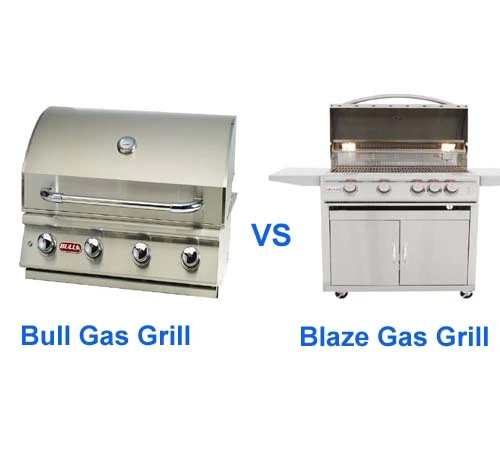 Bull vs Blaze Grill: Comparing Features & Performance of the Grills
Pricing
The two gas grills are no doubt a little expensive to own. But the Bull grill has a price tag of $1780, whereas the Blaze model goes for $2950. Thus, leaving a price difference of over a grand, which, to be fair, is a big one.
Cooking Accessories
In either of these grills, you can grill, sear, slow-roast, fry, smoke, and steam your food. But, sadly, both companies will most likely send your machine with only the main cooking grate and warming rack. Then you purchase the rotisserie kit, infrared searing burner, griddle, and smoker box separately.
In rare cases, you could get a free smoker box gift with your Bull grill. Then again, it still feels like a cheap bribe (valued at $48) as you'll have to purchase the more expensive accessories.
In fact, the built-in Bull grill doesn't come with the access door/ drawer combo, sink, or fridge for the BBQ island. So, you'll have to purchase them separately as well.
Note: You can get a freestanding Bull Lonestar Select grill with a mobile cart, albeit at double the price.
Build Quality & Warranty
On the Blaze vs Bull grill build quality, my points will go to the former. It has the drip pan baffles, heat zone separators, flame tamers, plus the inner walls of the firebox and hood in 443-grade stainless steel. Thus, has high resistance to warping (from heat), yet remains as durable and rust-resistant as the 304 stainless steel on the exterior body.
The cooking grates of the Blaze grill are also thick (9mm) 304 stainless steel rods, and so are the four main burners. Hence, a good explanation of why the company has supported all these parts with a lifetime warranty.
Of course, the Bull grill also has an option for a lifetime warranty. But only for the firebox and cooking grate, which are 304 stainless steel material.
The burner is a welded stainless steel with a 5-year warranty, whereas the flame tamer (also stainless steel) has for three years. Then most of the other parts, including grease tray, control knobs, gas valve, et cetera have one-year warranty support.
Heat Output
While they're all 4-burner systems, the Bull grill has slightly longer liner burner bars. And that means more flame ports than the Blaze grill, which is 1,000 BTUs less on each burner.
But despite having less output on the main burners, the Blaze machine does have a preinstalled infrared rotisserie burner at 10,000 BTUs. So, with all the five heat sources on, the cooking box will cumulatively have up to 66,000 BTUs output.
As was mentioned earlier, you can also replace the main burners on Blaze with an infrared searing burner. Thus, having the cooking box scorching hot much, much faster.
Performance
First, both the Bull Lonestar and Blaze Premium LTE burn on gas, thereby should heat up faster than Charcoal or pellet grills.
But again, the Blaze grill primarily requires Propane gas, which you should know have more energy and heats up quicker than Natural gas. Then with the infrared burners on, you'll get a good measure to cook your meat more quickly.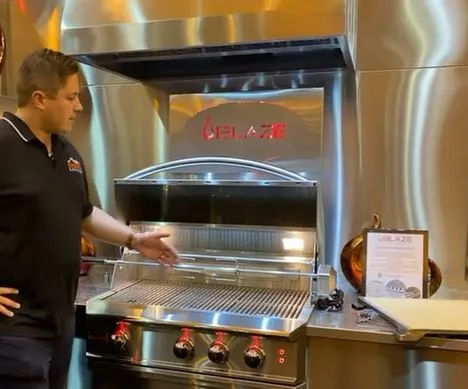 Furthermore, the lid-mounted thermometer of the Blaze grill has up to 900°F calibrations, which is possible to reach with infrared burner/s. And with the perforated, full-width frame tamer, the whole cooking grate heats up evenly fast.
The Bull grill also has perforated-style flame tamers (known as ReliaBULL). But the perforations here are along the apex, which is a little more susceptible to flare-ups than the Blaze machine.
Ease of Use
The two grills are straightforward to start and operate. They have multiple control knobs to adjust the cooking temperature of individual burners from low to high settings.
However, the knobs of the Blaze grill have backlit lights, which makes it possible to operate after sundown with ease. Then there are also two 10-watt halogen lighting systems under the hood to keep your cooking space well-lighted.
Well, the Bull grill also has the integrated interior light under the hood, but the knobs have no backlight. So, you'll be okay to grill in low-lighted conditions until you need to adjust the burner controls.
Cooking Convenience
The Blaze grill is no doubt the clear winner on cooking versatility. One of the reasons for this is the infrared burners (for the rotisserie and main cooking area) that not only roast & sear meat fast. But also makes sure your food retains most of its juices and tenderness for a flavorful, lavish meal.
Secondly, Blaze designed the Premium 4-burner grill with heat zone separators that provide optimal temperature control over the cooking surface. And there are also the drip pan baffles that help enhance the heat retention in the cooking area.
If you opt for the freestanding Blaze grill, you'll also get the side tables to prep your food and enclosed storage. Then, the cart has multiple roller wheels for easy movement to and from your BBQ space.
Of course, the Bull Lonestar grill has a freestanding model with a cart (if interested). But our reference Model 87049 is a built-in version with only the grill head to set up on the BBQ island.
And if you're okay with all that, the gas grill has a slightly larger cooking space than the Blaze machine. Then, you'll also get a complimentary smoker box to embellish the meals with your favorite smoky flavor.
FAQ
Are Bull grills good quality?
Yes, indeed, BBQ Bull is an excellent pick if looking for good quality grills that you can use for several years. But with the Lonestar Select, only the cooking grates and the firebox have a lifetime warranty, which tells a lot.
Where are bull grills made?
Similar to many American brands, Bull grills are made in China, where the company has its production facility. But the products still maintain a premium quality that can serve you for many years when cared for well.
How long do blaze grills last?
Technically, how long a product will last depends on the way you use and care for it. But Blaze grills have an overall 304 stainless steel construction that the company has even backed with a lifetime warranty. So, you can grill for a long time before having to go back to the market.
Do blaze grills rust?
The Blaze grills are highly resistant to rust, thanks to the shiny finish and 304 stainless steel build. However, you still need to properly care for your grill, including regular cleaning and seasoning. After all, 304-grade stainless steel necessarily doesn't mean corrosion-proof.
Final Thoughts:
In general, comparing a freestanding and built-in island grill is definitely an unfair duel. But both the Bull and blaze grills are available in the two configurations, thereby you only need to choose what suits your needs.
On the performance level, the 4-burner grills are also great. They heat up fast, plus can do direct and indirect cooking by using the control knobs for the individual burners.
Nonetheless, the Blaze grill has heat zone separators, plus infrared searing and rotisserie burners. And for that, it delivers the best cooking control and versatility we mentioned in the very beginning.
Then again, do remember the company doesn't send the accessories for smoking, rotisserie, or frying your food. You'll have to purchase them separately as per your grilling needs.