The Traeger Pro Series 575 and 780 pellet grills are significant improvements over prior Traeger grill generations. These wood pellet barbecues are famous for grilling and smoking meat to perfection, and the wood pellets provide a beautiful smokey wood taste that is difficult to achieve with gas-fueled grills.
If you're considering purchasing one, let me walk you over the Traeger pro series 575 vs 780 pellet grills comparison, what's new compared to prior generations, and what's lacking that you'd find on a more expensive model like the Ironside. But if you are looking for some other standout charcoal grillers, then you may also look for the Weber series and compare the best between Weber Kettle 22 vs 26.
The Traeger Pro Series 575 and 780 operate similarly to ordinary Traeger pellet grills, but with a greatly improved D2 drivetrain and WiFire operator. The new controller/motor arrangement is identical to that used in the premium Ironwood and Timberline grills.
Traeger Pro 575 vs 780: Features & Specifications
To assist you in deciding which Traeger grill is ideal for you, we have analyzed all of their features and specifications in the comparison table. This comparison chart is quite useful for comparing the Traeger Pro 575 vs Traeger Pro 780 models.
| | | |
| --- | --- | --- |
| Features | Traeger Pro 780 | Traeger Pro 575 |
| Item Dimensions | 48.7 by 26.7 by 54.4 inches | 27 by 41 by 53 inches |
| Item Weight | 145 Pounds | 124   Pounds |
| Manufacturer | China | China |
| Model Name | Pro Series 780 | TFB57GLEO |
| Power Source | Electric and Woodburning | Corded electric |
| Color | Bronze | Black |
| Fuel Type | Wood Pellet | Wood Pellet |
| Grilling Area | 780 sq in | 575 sq in |
| Works with Alexa | Yes | Yes |
| Control Style | WiFIRE Controller | WiFIRE Controller |
| Hopper Cleanout | Yes | Yes |
| Double Side-Wall Insulation | No | No |
| WiFIRE Enabled | Yes | Yes |
| Warranty | 3 Years | 3 Years |
| Frame Material Stainless | Steel Stainless Steel | Steel Stainless Steel |
| Grate Material | Porcelain Coated Steel | Porcelain Coated Steel |
| BTU | 36000 | 36000 |
| Maximum Temperature | 500 °F |  500 °F |
| Burger Count | 24 | 16 |
| Installation Method |  Free Standing | — |
| View details on Amazon | Traeger Pro 780 Price | Traeger Pro 575 Price |
Should I Get the Traeger Pro 575?
The Traeger Pro 575 Wood Pellet Grill makes wood-fired cooking easier. It has precise temperature control, ensuring optimal results every time. Simply set the temperature on the D2 Pro Controller, press Ignite, and leave the rest to the Traeger.
The Traeger 575 Pro Series Pellet Grill is a cutting-edge mid-sized smoker with WiFi connectivity. The grill is simple to install because all of the elements are well-made and fit together well. When it preheats, it gives out an incredible smokey flavor.
The Traeger app has a plethora of recipes that walk you through each stage of the cooking process. It delivers notifications when the preheating procedure is complete when the meat reaches the proper temperature, and so on.
This pellet barbecue is more flexible than a propane grill since it can bake, smoke, roast, barbeque, and grill. Most importantly, if you have any problems with the grill, Traeger provides excellent customer service that will promptly resolve your issue.
As if that weren't enough, the d2 controller now has wifi technology, which allows you to adjust grill temperatures. Using the Traeger app on your phone, you can monitor food and set timers and alerts. The D2 Direct Drive on the Pro 575 delivers all-natural hardwood pellets to the fire with an industry-first brushless motor that heats up the grill faster and lasts for years.
Should I Get the Traeger Pro 780?
Traeger's Pro Series is the world's best-selling wood pellet grill, and it's just getting better. Begin with an improved controller that features Traeger's WiFIRE technology, which enables you to access your BBQ from any location at any time. You may use your smartphone to monitor the temperature of your food and make changes as needed.
The Traeger Pro 780 has 780 square inches of cooking space. Despite its size, this is one of the simplest grills to put up when compared to others. The grill comes with the majority of its components pre-assembled, and once you've finished the little that remains for setup, you can start feeding pellets and cooking.
Wi-Fi connectivity and the app are two of the model's primary features. One significant benefit of having this connectivity with the app is the ability to accurately set cooking times and temperatures. Furthermore, when the time and temperature are met, the app displays a notification. You don't have to continually monitor the progress of your cooking using this function.
Furthermore, as compared to Traeger Pro 575 vs 780, the Pro 780 has a greater cooking capacity, allowing you to prepare more food for parties and holiday feasts. Furthermore, thanks to the new D2 drivetrain, the Pro 780 wifi pellet grill now offers a quicker start time and greater smoke quality, allowing you to cook faster, more reliably, and with more flavor.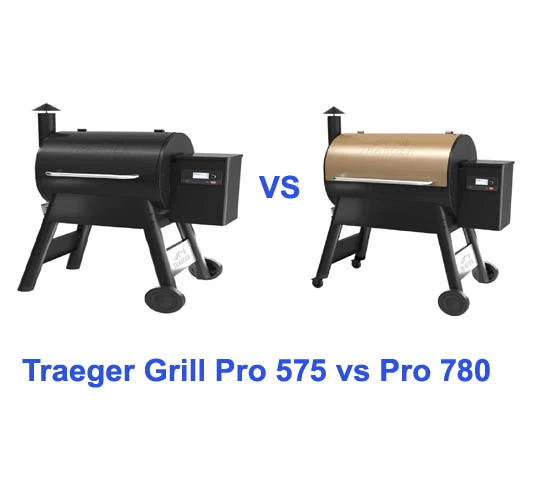 Traeger Pro 575 vs 780:The Similarities & Differences between the Grills
Surface Cooking Space of Traeger Pro 575 and 780
The Traeger Pro 575 grill has a cooking space of approximately 575 square inches, while the Traeger Pro 780 grill has a cooking space of around 780 square inches. It is the sole significant distinction between the two grills.
The Traeger Pro 575 grill can cook up to 24 burgers, 5 rib racks, or 4 chickens at a time, making it perfect for a family. The main disadvantage of this rack is that it might be a little shaky at times. So, before you go ahead and develop that attachment, be sure you've thought about it.
The Traeger Pro 780 grill has a greater space than the Pro 575 grill and is a superior grill for someone who has to cook for a large group of people. The Pro 780 grill, which is a significant advance over the Pro 575 grill, can cook 34 burgers, 6 rib racks, or 6 chicken at a time. If you value space on your grill, the Traeger Pro 780 is an excellent choice.
Grilling Rack of Traeger Grill
The additional grilling rack implies greater room, which the Traeger Pro grills will provide. Both grills offer some extra cooking area, which means you may cook more food at the same time within the grill. The Traeger 780 grill has a greater cooking area than the 575 grills, but the fact that there is an extra grill that uses the already existing space makes it more compact and easier to operate.
You can cook many meals at the same time, and the Traeger Pro grills have a large capacity. If you don't want to sacrifice on the room, the Traeger Pro 780 grill is the way to go; otherwise, the Pro 575 grill will suffice.
Construction of Traeger Pro 780 vs 575
The Traeger pro 575 has a single-wall body, enameled rod cooking grates, and a chimney vent, all of which are typical Traeger characteristics. In both the Traeger pro series 575 and 780 cases, a supplementary raised cooking grate has been incorporated for more cooking capacity.
Initially, there is a variation in the construction of Traeger Pro Series 575 vs 780 sizes and space between these two grills as compared to the pro series 780 with 575, the Traeger pro series 780 has 36% more space. Although the Traeger 780 has more space, it is not a substantial difference.
Traeger 575 features 5 slabs on the ribs, whereas Traeger 780 has 6 slabs. An extra slab of ribs didn't appear to make much of a distinction or distinguishing characteristic.
Safety  Features of Traeger Pro 575 vs 780
Coming to the safety features of Traeger grill pro series 575 vs series 780, both the Pro 575 and 780 are secure and equipped with a meat Probe, so you don't have to handle the lid, protecting you from heat and undercooked meat.  Another safety feature is the automated feeder, which does not require you to touch it after it has been loaded.
This is not, however, the only safety feature included in this model. The controller has two safety features that will assist you in properly operating the grill. The low-temperature alert is the first feature. When the temperature falls below 125 degrees, this alarm goes off. If the temperature falls below this level for ten minutes, the function will turn off all of the grill's internal components.
The high-temperature alert is another safety feature. If the temperature reading exceeds 550 degrees, the machine's internal components will be turned off.
You may also like: Weber Kettle 18 vs 22
FAQ (Frequently Asked Questions)
Does the Traeger 780 use more pellets than the Traeger 575?
The main distinction between these two grills is size, with the 780 offerings 36% larger cooking space than the 580. Another small difference between both grills is that the 780 will use slightly more pellets than the 575.
Is the Traeger 575 big enough?
The Traeger Pro 575 is the ideal size for a home griller. With 572 square inches of grilling space, you have more than enough space for almost any job. In fact, the company claims that it can cook 36 burgers, 6 pairs of ribs, or six full chickens at the same time.
Is the Traeger Pro 780 worth it?
The Traeger Pro 780 comes with several useful features, the most notable of which is the ability to monitor your cooking via the Traeger App. If you are searching for a high-quality pellet grill that will provide good value for money, this is the one to choose.
Our Top Pick
From the above-mentioned features between Traeger Pro Series 575 vs 780, we picked Traeger Pro 575 for you. Although it may be in the higher price range for you, it is not particularly valuable when viewed in terms of features. It is not only a fantastic smoker, but it is also a tried-and-true method of cooking meat, fish, and vegetables without burning. The Traeger Pro 575 has transformed the market, which gives you an idea of how effective it is.