Weber is one of the bestselling grills you can find in the market today, and for a good reason. In this review, we're going to compare Weber Spirit 310 vs 315 to see some of these perks and also determine which machine will be more worthwhile.
Weber Genesis II E-315 vs E-335
However, "315" is a common number on Weber grills. The exact model we'll be looking at is Genesis 315. And just as its cousin, Spirit 310, it usually burns on gas (liquid propane or natural gas).
Verdict: The 6 Reasons Weber Genesis 315's My Pick
The Weber Genesis 315 heats up must faster
The Weber Genesis 315 has a taller grill lid
The Weber Genesis 315 has an enclosed storage
The Weber Genesis 315 has a larger cooking area
The Weber Genesis 315 works well with a rotisserie
The Weber Genesis grill can also work with the iGrill 3 app
Weber Spirit 310 vs 315: A summary of the Features & Specs of the Grills
| Facts | Weber Spirit II E-310 | Weber Genesis II E-315 |
| --- | --- | --- |
| Grill Series | Spirit | Genesis |
| Type of Fuel | Liquid Propane | Natural Gas |
| Dimensions in inches (w/ lid open) | 26.0 by 52.0 by 57.0 | 31.1 by 59.1 by 62.2 |
| Main Cooking Area | 424 sq. inches | 513 sq. inches |
| Secondary Cooking Area | 105 sq. inches | 154 sq. inches |
| Cooking grates Material | Cast Iron (Porcelain-enameled ) | Cast Iron (Porcelain-enameled ) |
| Total Burners | Three | Three |
| Heat Output | 30,000 BTU/ hour | 39,000 BTU/ hour |
| Grilling Temperature | Up to 600°F | Up to 600°F |
| Rotisserie Kit Included | N/A | NO (purchased separately) |
| Control Type | Physical Knobs (no night light) | Physical Knobs (no night light) |
| Temperature Gauge | Mechanical | Mechanical |
| Built-in Timer | NO | NO |
| Interior Lights | NO | NO) |
| Smart iGrill 3 Support | YES | YES |
| Extra Features | Relatively cheaper & smaller, plus has a foldable side table | Has a closed cabinet with doors, plus a fuel level gauge/ meter |
| Standard (Free) Warranty | 10 Years | 10 Years |
|  View on Amazon |  Weber Spirit 310 Price |  Weber Genesis 315 Price |
Weber Spirit II E-310 Revies
Are you looking for a grill to use in a limited yard space? The Weber Spirit 310 smoker series has a relatively compact design that could work out for you. You could consider the original Spirit E-310, but the second-generation model (Spirit II E-310) saves you even more space.
As a matter of fact, the left working table of the Spirit II E-310 has a foldable design. Thus, dropping the total width of the machine from fifty to forty inches.
Other pros and cons of the Weber Spirit II E-310 grill include:
Pros:
It heats steadily and evenly
Has a sturdy, durable design
Features easy-to-use control knobs
Includes roller coasters for easier mobility
Has hooks on the side to hang grilling utensils
It also has a gauge to tell your gas tank level
Cons:
It has the gas tank outside
Supposedly storage has no enclosure and doors
The lid's relatively short for using rotisserie
Weber Genesis II E-315 Reviews
If looking for a grill to prepare large batches at a time, the Weber Genesis E-315 could be an excellent choice for you. It has a 500 sq. inches main cooking area that can handle up to thirty burgers in one go. Then, there's also a 150 sq. inches top rack on the lid, where you can tack some foiled potatoes or buns to warm.
The Genesis grill also has a tall lid if you'd like to add an electric rotisserie for roasting and grilling. Then, it has a bottom enclosure with doors to keep your tongs, gas tank, and other essential BBQ tools safe from harsh elements.
Other pros and cons of the Weber Genesis II E-315 are:
Pros:
It feels well-made and sturdy
Heats up quickly and evenly
So easy to light up and operate
Handles various cooking methods
Features multiple casters for mobility
It has a fuel gauge to track gas level
Cons:
The grill lid handle has no insulation
None of the side tables can be folded
It has no rear burner for rotisserie
Weber Spirit 310 vs 315: Comparing the Features & Performance of the Gas Grills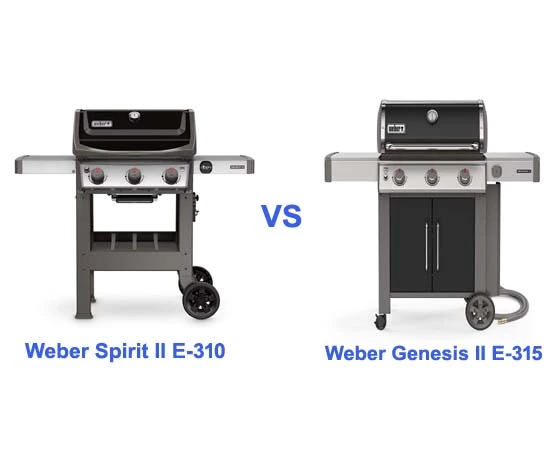 Best of Pricing
Well, the two gas grills aren't exactly cheap to own. The Weber Spirit II E-310 has a $570 price tag, while the Genesis II E-315 sells at $1,031. But then, is the extra four hundred bucks on the Genesis grill worth it?
Winner: Weber Spirit 310 grill as it saves you over four hundred bucks
Accessories
Unfortunately, Weber delivers Spirit 310 and Genesis 315 with only the basic accessories. That includes the stands, caster wheels, side tables, cooking grates, lid (with integrated thermometer, and the GS4 grilling system.
The GS4 system is the whole unit of the infinity ignition, burners, flavorizer bars, and grease management unit. But the burners are only three across, and no infrared rear burner like the Napoleon Prestige grill. So, you can't use the rotisserie and main grill at the same time.
Speaking of the rotisserie, you'll have to purchase the system separately since Weber doesn't provide either of the two grills with one.
Winner: None as Weber offers the grills with only the main grilling kit
Best of Design/ Style
Even though beauty is in the eye of the beholder, the Weber Genesis II E-315 is no doubt a clear winner here. It has a pretty lovely expression while even far from the inclusion of the cabinet doors and stainless handles that has blended perfectly well with the whole system.
The bottom part of the Genesis grill also has an enclosure all-round and the interior is large enough to hold your LP/ NP gas tank. Then, the lid has a 10-inch height, which makes it possible to barbecue or roast on the rotisserie without a hassle.
On its end, sadly, the Weber Spirit II E-310 has a relatively shorter grill lid, which makes it hard to find the right rotisserie. And also the bottom space looks too basic as it's an open cart without front doors or side enclosures.
Winner: Weber Genesis 315 as it's more appealing, plus has a taller grill lid and enclosed bottom
Cooking Area
If you have a larger family to be grilling for, the Weber Genesis II E-315 will also be the best choice. Of course, the difference with the Spirit II E-310 isn't significant, but the extra 100 sq. inches still matters.
The top warming rack area of the two grills could also work as a secondary grilling area for things like baked potatoes, asparagus, hotdogs, and buns. But even there, the Genesis grill has more space by about fifty square inches.
Winner: Weber Genesis 315 has about 138 sq. inches more cooking area than the Spirit grill
Burning Fuel
When we now compare Weber Spirit II E310 vs Genesis II E315 on the fueling, they both rely on gas to cook your recipes. And you can get a version of either Liquid Propane (LP) or Natural Gas (NG), but not both.
Moreover, the two grills have an integrated fuel gauge to let you know when your gas tank is drying up.
Winner: Both as they run on gas and also have a fuel level gauge.
Grilling Heat
First up, Weber innovated the Spirit II E-310 and Genesis II E-315 with a three-burner system. Also, the "E" on both gas grills means they have porcelain-enameled cooking grates, which means they're non-stick. And since the main material is cast iron, they also heat up pretty quickly.
On the Weber Spirit grill, the said heat can go up to 600°F. It also cooks the food in place faster than most pellet grills.
The Weber Genesis II E-315 also heats up steadily but has a total output of 39,000 BTU/ hour, which is higher than the Spirit model. So, you'll notice it does everything (heating up and cooking) a little bit faster than its counterpart.
Bear in mind that Weber sends all the Spirit and Genesis gas grills with flavorizer bars (removable). These are the V-shaped metal bars lying between the burner tubes and BBQ grates. And they help distribute the heat evenly across the entire grate while at the same time preventing flare-ups.
Winner: Weber Genesis 315 heats up a little quicker as it also has 9000 more heat output than the Spirit 310.
Cooking Methods
Do you want your grill for just grilling steak? I'm hoping not, considering these machines have unlimited capabilities. If it's our Weber models, the smooth side of the grates handles delicate food like fish, chicken, hotdogs, and even pizza. Then, the other side (has wider spacing) for searing your steak and other foods you'd like to leave some grill marks.
As mentioned earlier, these two gas grills also have a warming rack that you can use for slow cooking. Then, the grill lid has the side slots to pass through a rotisserie when you want to barbecue or roast your meat while basting.
Furthermore, the flavorizer bars I've just mentioned can help add that "cooked on grill" aroma you want on your dish. And in case the vapor from the drippings isn't enough, you can get a smoker tube box for the extra smoky touch.
Winner: Both grills can grill, roast, sear (light), warm, and smoke your food
Smart Control
Again, both Spirit and Genesis grills win in this part as they all utilize physical knobs to regulate the heat in the cooking area. And also they're compatible with the add-on iGrill 3 smart thermometer that makes it possible to monitor your foods via a smartphone app.
Even better, Weber claims you can set the desired temperature of your meat, and the mobile app will notify you once reached.
Quick Common Questions
How much does a Weber Spirit 310 weigh?
The Weber Spirit 310 is one of the simplest yet bestselling gas grills from the brand. It has a total weight of around 115 pounds, thereby you can mount a 20lb propane gas tank without toppling it over.
Which Weber Spirit is the best?
In general, all Weber Spirit grills are great since it depends on what you want to accomplish at the end of the day. But from the available catalog, my top three options come down to:
Is Weber Spirit the same as Genesis?
No, Weber Spirit isn't the same as Genesis grill. They're two different grill series, but they share quite a number of features. Such features include the GS$ grilling system, porcelain-enameled cooking grates, burning fuel, gas gauge, vaporizer bars, and the iGrill 3 support.
To Conclude:
Weber is a great grill, both on pricing and performance. In our Weber Spirit 310 vs 315 comparisons, we've mentioned the former saves you over $400 to buy- and that's the regular price. Yet, the tool still grills as good as its counterpart while utilizing a relatively smaller space.
Regardless, the Weber Genesis II E310  is still my favorite pick for the enclosed storage space for grilling tools and the gas tank. We've also seen it heats up faster and also the lid is taller enough to use a rotisserie with a compromise.
You may also be interested: