Weber left a lasting pleasant effect on customers with its product, the Charcoal Kettle grill. In 1952, George Stephen created the extremely strong Weber Kettle Grill. Weber charcoal kettle grills have been a popular choice for years. The Weber 22 and 26 are so named because their diameters are 22 and 26 inches, respectively. Both grills are part of the Original Kettle line, which also includes an 18-inch model.
Despite the fact that Weber has other 22 and 26 inch grills in its portfolio, the Kettle Premium series is the only one that provides both possibilities. These are the ones we'll be looking at because we'll be doing a side-by-side comparison between weber 22 vs 26.
Similar article: Weber Kettle 18 vs 22
Weber Kettle 22 vs 26 : Features & Specifications with a comparison table
Many individuals question the difference between Weber 22 and Weber 26. It is difficult to determine whether to get a Weber 22 or 26 because each model has distinctive features and specifications. In this part, we will explain everything you need to know about these two models.
Weber 22

vs

Weber 26 Comparison
Image

Weber Kettle 22 inch

Weber Kettle 26 inch
Dimensions
25 by  22.5 by  39.5 inches
42.9 by 27 by 33 inches
Dimensions - Lid Closed (inches)
39.5"H x 22.5"W x 25"D
42.9"H x 27"W x 33"D
Item Weight
1.5 Kilograms
56.6 Pounds
Diameter (inches)
22
26
Department
Outdoor Living
Outdoor Living
Material
Alloy Steel
Alloy Steel
Color
Black
Black and glen-blue
Capacity
Hold up to 13 burgers
Holds up to 19 burgers
Lid material
Porcelain-enameled
Porcelain-enameled
Rust-resistant aluminum dampers
1
1
Removable Ash tray
Yes
Yes
Rusting
NO
NO
Fuel type
Charcoal
Charcoal
Glass-reinforced nylon handles
2
2
Primary cooking area
363 square inches
508 square inches
Built-in Thermometer
Yes
Yes
Tool hooks
0
2
Warranty
10 years
10 years
Details






1. Should I Get the Weber Kettle 22-inch?
This Original Weber 22 Kettle retains its classic compact design, taking up a little area in your backyard. It's the grill for those who don't have a lot of outside space. The black hue, while unremarkable, blends well with whatever outdoor décor you may have. Despite its modest size, the built-in thermometer gives it a professional appearance, preventing it from seeming like a cheap grill.
The three-legged design and two rear wheels offer the appearance that this is a portable barbecue that you can take with you at any time. Overall, the Original Kettle Premium isn't too daunting for a first-time griller while yet maintaining the appearance of a professional grill for the seasoned chef.
The Weber 22 grill has a primary cooking area of 363 square inches, which is large enough to cook for up to 8 people. The grill itself appears little, yet it cooks for a reasonable number of people, which is a pleasant surprise. This barbecue has enough space to cook an entire turkey.
This Weber 22 Kettle offers excellent ventilation as well. The adjustable dampers allow you to either extinguish the fire or leave the vents open to create heat. The adjustable dampers make it suitable for a range of cooking methods other than grilling. Meat can also be smoked or cooked over indirect heat. You can also get a rotisserie adapter for your shish kabobs separately.
2. Should I Get the Weber Kettle 26-inch?
The Weber Original kettle premium charcoal grill 26 inch is an excellent choice for use outside. It's great for grilling and smoking. It comes in two distinct sizes. If your garden is large enough, the Weber Original kettle premium charcoal BBQ grill 26 inch is an excellent choice. It is ideal for usage outside. It has a heavy-duty cast iron grill grate and a long-lasting stainless steel body. It comes in four distinct sizes.
The Weber's original kettle premium charcoal grill 26 inches is an excellent option as it may be used both indoors and outdoors. It has a heavy-duty stainless steel body and a cast iron grill grate. It has a built-in thermometer. It comes in five distinct sizes.
It's big enough to cook a whole week full of dinners or a load of burgers at your next BBQ. Your grilling experience will be worry-free from start to finish thanks to quality features like a hinged cooking grate for quick charcoal addition while grilling and the One-Touch cleaning system with a high-capacity ash catcher.
Weber 22 vs 26 :The 6 Similarities & Differences between the Grills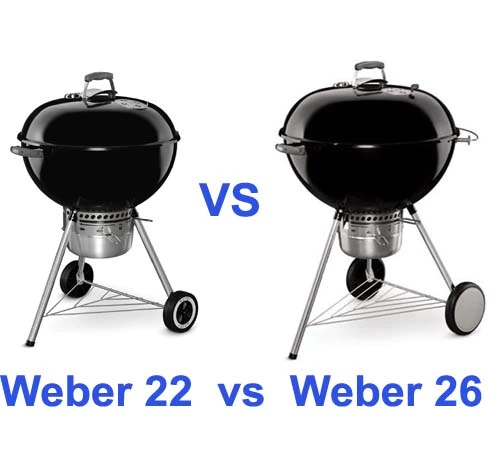 Construction
On the 22- and 26-inch variants, the bowl, and lid are made of porcelain-enameled steel.
This material resists corrosion and is simple to clean. It also retains heat efficiently, so you won't have to add coals as frequently as you would with a lower-quality model.
The bowl and lid of both sets include glass-reinforced nylon handles. A heat shield protects the lid handle, eliminating the need for oven gloves when checking progress. Rust-resistant aluminum dampers are also featured in both lids. In terms of durability, the grills are equal.
Grilling Surface
The 26-inch model, on the other hand, is a great choice if you require a grill with a lot of cooking area. The bigger version of the Original Kettle Premium grill has a total cooking surface area of 508 square inches. That should give you enough capacity for 25 regular-sized hamburger patties.
The 22-inch model, on the other hand, only has 363 inches, which is just enough space for roughly 17 patties. This makes the diameter difference appear considerably larger than it is on the surface.
Mechanism of Ash Management
For each of these units, Weber provides its One-Touch cleaning method. These are made of high-quality damper blades and damper control rods to facilitate ash removal. The components in the 22-inch model are constructed of aluminized steel. The identical system is available in the 26-inch form, however, it is made of stainless steel.
Although aluminized steel transmits heat better than stainless steel, this is irrelevant in the damper system. Because stainless steel is the stronger of the two materials, the 26-inch model gets better points.
Controllability
These grills are equipped with two strong wheels that can endure a lot of stress from the outdoors. They allow you to transfer the grill from one side of the property to the other in both circumstances.
In either case, the wheels are of excellent quality. Nonetheless, because the 22-inch version is smaller and more compact, it should be easier to transport. If mobility is important to you, the Weber 22 is a better choice than the Weber 26.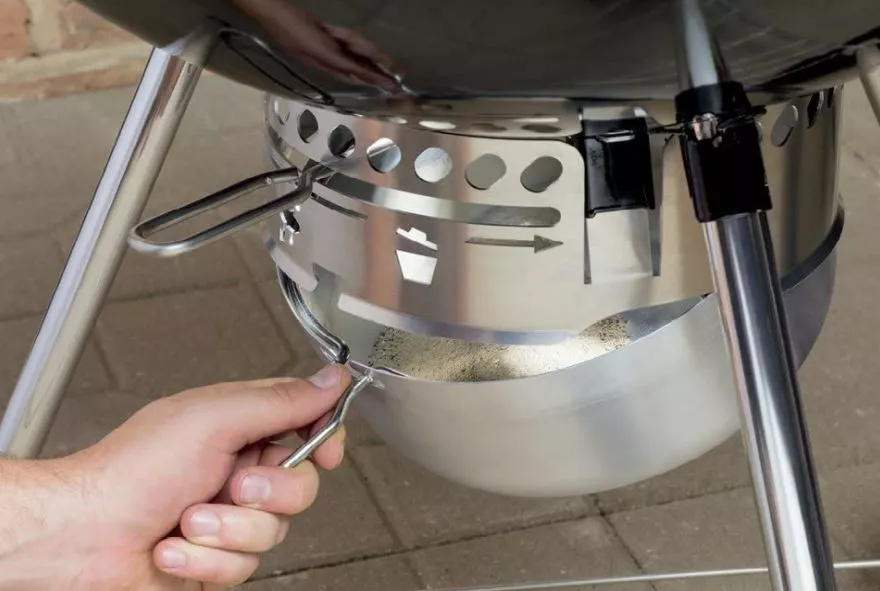 Effortless assembly
It's not difficult to put together a charcoal barbecue. There are no gas lines or electrical components to contend with, and it's usually straightforward to figure out which parts belong where.
With one small difference, this is also true of Weber's Original Kettle Premium line barbecues. The spring-clip/push pin leg combination on the weber 22 and 26 inches grills is meant to make it easy for the consumer. The system functions properly on the smaller unit.
Temperature Control and Heat Retention
A built-in lid thermometer is included on both grills to assist grillers to keep track of the interior temperature while they cook. This is a feature that many kettle-style grills lack, and it comes in useful when cooking with indirect heat.
The Weber kettle grills' quality build and exceptional design help them hold heat for longer periods of time. Because the air vents are constructed of rust-resistant metal, they can be readily changed, offering you superior temperature control.
The 22-inch model also has a low and slow vent option, allowing it to function as a smoker. Newbies may find it challenging to comprehend how this method works at first. Regardless, it's an outstanding feature that earns Weber the top spot in this category.
Warranty
The lid and bowl are covered by a 10-year guarantee. This implies that if one of those components burns or rusts through within the first decade of service, the customer is entitled to free replacements. Weber's One-Touch cleaning technology, which is incorporated in both units, is warrantied for 5 years.
Any plastic components are covered by a 5-year guarantee from the date of purchase. This figure does not include any aesthetic damage caused by discoloration or fading. All other components are protected by a 2-year warranty.
FAQ (Frequently Asked Question)
How many burgers are in a Weber 26?
The Original Kettle Premium grill comes in a 26-inch variant with a total cooking surface of 508 square inches. That should give you enough space to accommodate 25 regular-sized burgers inside it.
How many burgers are in a Weber 22?
The Weber 22 is ideal for cooking up to 13 burgers, hot dogs, steaks, seafood, veggies, and even desserts. This grill is simple to maintain, long-lasting, and backed by a lifetime guarantee.
Our Top Pick
After comparing weber 26 vs 22 in this blog post Weber 22 inch kettle is better and all-arounder, but the Weber 26 inch kettle is ideal for bigger gatherings, turkeys, and joints. If you're just going to buy one, I'd recommend the Weber 22 inch kettle.