Sometimes it becomes difficult to choose which charcoal griller is much better than another, especially when they are manufactured by the same company. In this roundup, we'll compare the Weber Kettle 18 versus 22 to see what differentiates them.
So if you're looking for a kettle-style charcoal grill, you can't go wrong with a Weber. This style of the grill was created by the founder of the company, and the Weber name has remained strong ever since.
Weber Kettle 18 vs 22: Features & Specifications
The Weber Kettle charcoal comes with some different sizes, but when it comes to the Weber Kettle 18 inch and the Weber Kettle 22 inch, there tends to be a little bit of confusion as to which is better. Do you want to know which one is the best between Weber Kettle 18 vs 22? We're really going to take a look at both to know which is really the best for grilling.
| Features | Weber Kettle 18 inch | Weber Kettle 22 inch |
| --- | --- | --- |
| Dimensions | 18 by 23 by 35 inches | 25 by  22.5 by  39.5 inches |
| Dimensions – Lid Closed (inches) | 36″H x 18.5″W x 23″D | 39.5″H x 22.5″W x 25″D |
| Item Weight | 3.31 Pounds | 1.5 Kilograms |
| Diameter (inches) | 18 | 22 |
| Department | Outdoor Living | Outdoor Living |
| Material | Alloy Steel | Alloy Steel |
| Color | Black | Black |
| Capacity | Hold up to 9 burgers | Hold up to 13 burgers |
| Lid material | Porcelain-enameled | Porcelain-enameled |
| Rust-resistant aluminum dampers | 1 | 1 |
| Removable Ash tray | Yes | Yes |
| Rusting | No | No |
| Fuel type | Charcoal | Charcoal |
| Glass-reinforced nylon handles | 2 | 2 |
| Primary cooking area | 240 square inches | 363 square inches |
| View Price | Weber Kettle 18 inch | Weber Kettle 22 inch |
Should I Get the Weber Kettle 18-inch?
If you don't want to spend much on a charcoal grill, then we recommend the weber 18-inch model for you. Irrespective of the fact that it's smaller with limited features compared to the 22-inch model, you can take away the fact that it still produces well-grilled delicious meals with smoky charcoal flavour.
It can accommodate up to nine burgers on its platter cooking grate with an enameled porcelain lid and bowl, lid hook, easy-to-adjust dampers, and it's also easy to move around. The one-touch cleaning mechanism sweeps ash and debris into the rust-resistant ash catcher, making cleanup a breeze.
The problem is its small size, which will make it difficult for you to smoke a full whole chicken. Another problem is the ash removal system; When the ashes fall from the kettle, they are meant to land on a shallow metal saucer, where you may dispose of them, but instead they're scattered everywhere and this might lead to the metal saucer getting damaged or lost. The only best way to remove the ashes out of it is by taking out the grates, turning the grill and then pulling out a shop vac to clean it up.
Should I Get the Weber Kettle 22-inch?
If it's actually your first time buying a grill, then the Weber Kettle 22-inch is recommendable because it looks cool with classic features. There's no doubt that this grill costs a fortune, but it's quite affordable and the best charcoal grill you can buy. For instance, if you have a large family and want to cook a large meal, then this product is the right fit for you. From the above features, you can actually see that it can take up to 13 burgers, an entire cut-up barbecue chicken, a full whole chicken and a killer rack of wood-smoked baby-back ribs.
Given how large the size is, you can easily arrange your coals for two-zone cooking, roasting, and searing. The cooking grate is made of plated steel, making it quite easy to clean. And if the grates are given proper care, it should last for several years.  The 22-inch model system is made of aluminized steel which can make it absorb heat better than stainless steel. It equally has a One-Touch Cleaning System that enables you to clear-off ash and debris into the removable ash catcher for disposal.
The problem is that the temperature control can be complicated if you don't know what you're doing, especially for low-and-slow cooking applications. And Just like that of the 18-inch model, it also has the same problem with the ash removal system.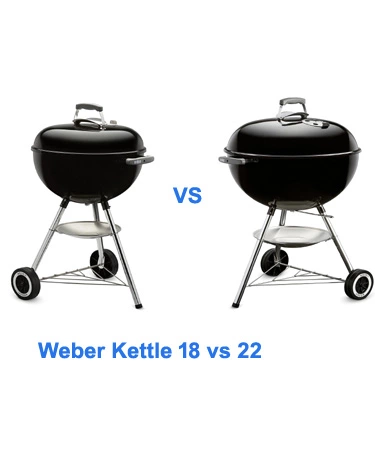 Weber Kettle 18 vs 22 :The 4 Similarities & Differences between the Grills
Cooking Grate/Area
When it comes to the size difference between these two charcoal grills, it isn't always about the height or other external measures. The provided number corresponds to the cooking area.
So, the Weber Grill Kettle 18 features an 18-inch cooking grate, and the 22 has, well, 22 inches. This may appear to be a little change, yet it makes a significant difference in cooking. The 18-inch charcoal barbecue has a total cooking area of 240 square inches. While it may not appear to be huge at first glance, this model can prepare enough meals for up to ten people in a single cooking session.
The 22-inch model employs the same technique of expanding the overall cooking surface on various grates. There are 363 square inches available for you to prepare multiple meals at the same time. You will be able to cook up to 13 burgers at a time with this wide cooking space. During small events, this griller may serve up to 12 to 15 people.
Each Weber's grilling grate are made of chrome-plated stainless steel. This is a strong metal that can withstand the weight of entire chickens or other prepared heavier meals.
Build And Material
When it comes to the materials used to make these grillers, there isn't much to compare. Both are composed of powder-coated stainless steel, which is ideal for outdoor cooking.
The powder-coated coating on these grillers makes them durable in all weather conditions. Despite repeated exposure to rain and sunlight, they will not corrode or rust. The design is similarly similar to the idea of a standing griller. When it comes to design, the only visible change between the two grillers is the lid. The lid is similar to the  dome shaped form, but the 18-inch variant adds a flat box design. This provides you with more cooking space.
Both the Weber Kettle 22 and 18-inch variant has multiple adjustable outlets on the lid of the grill and can be able to control the temperature of the grill by controlling the airflow through the charcoal bed.
Cooking in the Grillers
This is where you can really tell the difference between the Kettle 18-inch and Kettle 22-inch. However, there isn't much to see because they're both excellent grillers of any burger.
When grilling large amounts of burgers, the 22-inch type is more convenient as it cooks faster since you don't have to wait for one burger to finish grilling; simply add as much as you can.
It's pretty cool if you really know how to use a Weber Kettle Grill, because it's capable of cooking most foods. Especially when it's been set up properly, it can roast chicken, sear burgers, steak and vegetables, as well as grill seafood.
You can cook with low temperature by stacking the briquettes inside the grill correctly so it can burn at barbecue temperatures with minimum supervision. If you're roasting a chicken, then just bear in mind that the cooking time should be between 60-90 minutes depending on the size of the chicken.
Mode of Maintanance
The mode of maintenance for both the Weber designs is quite similar. Cleaning the cooking grate is similar to cleaning any other grate; use a suitable grill cleaning tool to remove food particles (while it's still heated), but avoid using anything metal.
You might wish to wash it once in a while with warm water and a light soap. Similarly, you'll most likely have to brush debris from the lower charcoal grate, but this may not be necessary after each usage. After each usage, you will need to remove any unused charcoal and ash that has settled to the bottom.
Some of the ash may fall through to the ash collector, which is located a few inches beneath the bowl. For the rest, Weber has included its "One-touch" ash removal technology in the Original Kettle. It's a rotating set of three blades that you turn with a handle that protrudes from the bottom of the bowl. The ash is pushed through three holes and down into the catcher when the blades are turned. Simply spin it back and forth, scraping and grinding the spent coals and ashes into small bits that fall into the catcher. When it comes to cleaning the lid and bowl, carbon will collect on them as a result of burning charcoal and cooking food.
Here is the video for comparison between weber 22 vs 18
Our Top Pick
In the Weber 18, however, you only cook for 3 or 4 people on a regular basis. But, if you're searching for easy-to-clean cooking grates, the Weber 18 is a great option.
However, our top pick-up is  Weber 22 as it offers a larger cooking space or often utilizes indirect heat for grilling. If you can manage to invest a little extra for a bigger grill, it is a standout product.
Similar article: