In the world of grilling, few names resonate as strongly as Traeger, the pioneers behind the wood-pellet grill revolution. The Traeger Ironwood 885 is their latest offering, promising a seamless blend of tradition, innovation, and performance. This review dives deep into what sets this grill apart.
From the first glance, the Ironwood 885 stands as a testament to Traeger's commitment to perfection. As they continue to evolve the wood-pellet grill landscape they originated, the Ironwood 885 emerges as a beacon of what's possible in modern BBQ tech.
Key Features
Superior Wood-Fired Taste without Gas or Charcoal
Gone are the days when you'd need gas or charcoal to get that authentic BBQ taste. The Ironwood 885 utilizes wood pellets to infuse food with a rich, smoky flavor, perfected with a temperature control that reaches up to 500 °F. Additionally, with its Locking Caster Wheels and All-Terrain Wheels, you're promised both mobility and stability, catering to all your outdoor BBQ setups.
Traeger Pro 780 Review: Elevate Your Grilling Experience
Innovative Connected Home Technology: WiFIRE
Modern problems require modern solutions. With WiFIRE technology, the Ironwood 885 connects to your home WiFi, bringing smart tech right to your grill. Whether you're in your living room or running an errand, the Traeger app puts the power to monitor and control your grill right at your fingertips.
6-in-1 Versatile Cooking Capability
With the Ironwood 885, you're not just getting a grill; you're unlocking a culinary powerhouse. Whether you want to grill, smoke, bake, roast, braise, or BBQ, this machine can do it all. And once you're done, the porcelain grill grates ensure cleaning up is hassle-free.
Enhanced Performance with D2 Drivetrain
Traeger's continuous innovation is evident in the upgraded D2 drivetrain of the Ironwood series. This means faster startups, quicker heating times, and most importantly, a quality of smoke that is simply unparalleled.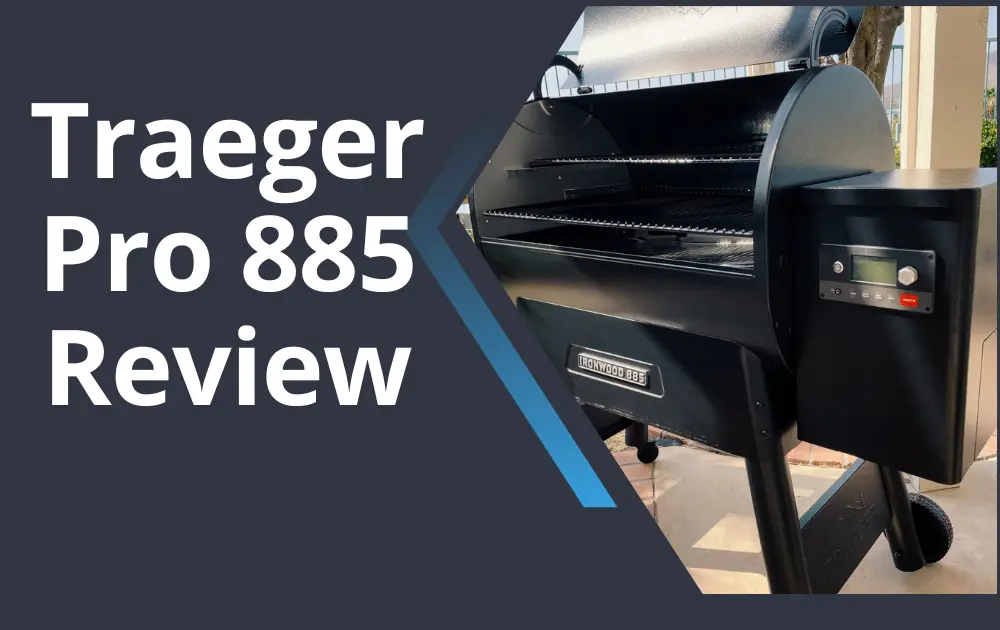 Ample Grilling Capacity for Family Gatherings
The Ironwood 885 is built for those who love to entertain. With a generous 885 sq in of grilling space, you can effortlessly cook ten chickens, seven rib racks, or nine pork butts. And to ensure every cook is flawless, there's a built-in meat probe to guarantee precision.
Position in the Market
The Ironwood series, with models like the 885, has solidified Traeger's reputation as a market leader in pellet grills. Their blend of tradition and innovation resonates with both seasoned grill masters and newcomers alike.
Traeger Ironwood 885 FAQs:
Is the Traeger Ironwood 885 too big?
Answer: The Ironwood 885 offers a generous 885 sq in of grilling space. For those who often entertain or have large family gatherings, it's ideal. However, for individuals or smaller families who grill occasionally, it might be considered more space than necessary. Always consider your specific needs and available storage space before deciding.
Is the Traeger Ironwood worth it?
Answer: Absolutely. The Ironwood series, including the 885, combines traditional wood-fired grilling with modern features such as WiFIRE technology and precise temperature control. It's an investment in quality, convenience, and exceptional taste. Its value is not just in its construction but also in the versatility it brings to outdoor cooking.
Is the Costco 885 the same as Ironwood 885?
Answer: Often, products sold at Costco can be variants or have minor differences. While the core features might be the same, it's crucial to compare the specifications and any bundled accessories. It's always a good idea to consult Traeger's official documentation or customer support for any model-specific queries.
What is the highest temperature on the Ironwood 885?
Answer: The Ironwood 885 can reach a maximum temperature of 500 °F. This makes it versatile for various cooking methods, from slow smoking to high-heat grilling.
How does the WiFIRE technology enhance the grilling experience?
Answer: WiFIRE technology allows the Ironwood 885 to connect to your home's WiFi. This provides the convenience of remotely monitoring and controlling your grill through the Traeger app, ensuring optimal cooking even when you're not right next to your grill.
What's the significance of the D2 drivetrain in the Ironwood series?
Answer: The D2 drivetrain in the Ironwood series signifies an upgrade in performance. It ensures quicker start-ups, faster heating times, and produces a superior quality of smoke, enhancing the overall grilling and smoking experience.
Conclusion
In sum, the Traeger Ironwood 885 is more than a grill — it's an experience. Combining tradition with modern technology, it promises an unmatched grilling adventure, every single time.
Recommendation
If you're passionate about BBQ and are on the lookout for a grill that marries tradition with tech, the Ironwood 885 is for you. Its price point might be on the higher side, but given its myriad features and the brand's reputation, it's an investment that will pay off in flavors and memories. Happy grilling!