I'm sure a trip to the Gram's BBQ place has always left you with a need for more of the tender briskets. But grilling one's steak has always been fun. And in this review, we're going to compare Broil King vs Napoleon grills to see which will be a much better investment.
In a nutshell, both grills are great in performance and also versatility. But the way they do all that's a little different- the same goes for the overall experience. So, let's break down their perks and some of the hidden flaws before you place down all your savings.
Verdict: The 6 Reasons Napoleon Grill's My Pick
The Napoleon Grill has a sleeker design
The Napoleon gas grill comes with a rotisserie
The Napoleon grill heats up quickly & steadily
The Napoleon grill has a 1800°F searing station
The Napoleon gas grill has closable cabinets
The Napoleon grill has a lifetime standard warranty
Broil King Vs Napoleon: A Summary of the Features & Specs of the Grills
Broil King and Napoleon are both leading brands of grills, and with a large catalog of products to consider. In our comparison, we'll be using Broil King Baron Pellet 500 and Napoleon Prestige 500 for references.
Broil King

vs

Napoleon
Image
Title
Broil King 494051 Crown 500 Pellet Grilll
Napoleon P500RSIBNSS-3 Prestige 500 RSIB Natural Gas Grill
Grill Series
Crown Pellet
Prestige
Type of Fuel
Pellets
Natural Gas
Dimensions
25.50 by 58.75 by 43.5
26.50 by 66.25 by 57.00
Main Cooking Area
560 sq. inches
500 sq. inches
Cooking grates
Cast Iron
Stainless Steel
Total Heat Output
N/A
48,000 BTU
Grilling Temperature
Up to 600°F
Up to 700°F
Rotisserie Kit Included
NO
YES
Control Type
One-Touch Buttons
Physical Knobs  
Temperature Gauge
Digital
Mechanical
Built-in Timer
YES
NO
Interior Lights
NO
YES
Extra Features
Built-in WiFi & Bluetooth, plus meat probe temperature readouts
Has a separate searing burner & Can also work like a charcoal BBQ,
Standard (Free) Warranty
5 Years
Lifetime
Details






Broil King Baron Pellet 500 Reviews
Are you looking for a pellet grill that's simple yet contemporary in design? The Broil King Baron Pellet 500 has an easy barrel-shaped design added with digital controllers, an LCD, and a timer. So, you get to cook your steak, burgers, and other recipes with a classic touch and the precision of the latest tech.
As a matter of fact, Broil King has integrated WiFi and Bluetooth connectivity to the pellet grill. So, you could pair your appliance with the Broil King Pellet Grilling App to monitor your cooking process right from your smartphone.
But again, can you smoke, roast, or grill your briskets and hamburgers to perfection remotely? Let's see some of the pros and cons of the Broil King smart grill.
Pros:
It has a well-made design
Straightforward to start and operate
Cooks well at hot and high temperatures
Easy to track the temperature of your meat
Includes two roller casts for easier mobility
You can set your preferred cooking time on the timer
Cons:
It doesn't come with the rotisserie accessory
Its cooking temperature's slightly offset
The wireless connectivity feature isn't very reliable
Napoleon Prestige 500 Reviews
Are you looking for a versatile grill to impress your friends at the next BBQ? The Napoleon Prestige 500 fits the bill perfectly well if you won't mind the price tag.
It starts with a stylish design that you can pick between stainless steel, black, or charcoal grey finishes. Then when it comes to performance, it has a plethora of cooking capabilities than many grills on the market.
For instance, the main cooking area is large enough to cook up to thirty-one burgers at once. And the extra searing station on the side (left) heats up to 1800°F, which can grill your piece of steak in less than ten minutes.
Better yet, Napoleon offers the gas grill with a rotisserie kit for roasting and barbecuing your turkey or pork straight from the box. And there's also an optional charcoal tray if you'd like to add a special smoky flavor to your meat.
Pros:
It feels sturdy & durable
Heats up very quickly
Has illuminated knobs & interior
Includes four rolling casters for mobility
Also has integrated JETFIRE ignition system
The cabinet's pretty spacious and versatile as well
Cons:
It can be a hassle to set up (for some)
Handles for the cabinets are plastic
The base also isn't as sturdy as the top part
Broil King Vs Napoleon: Comparing the Features and Performance of the Grills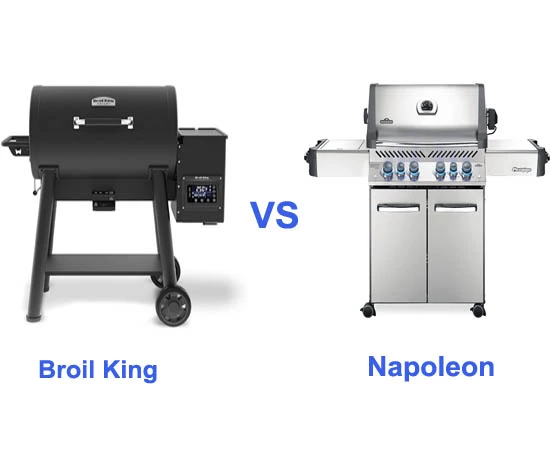 Pricing
In all fairness, both Broil King and Napoleon grills are pretty expensive to own. The Broil King Crown 500 Pellet usually sells for around $1,200, which is $450 cheaper than our Prestige 500 gas grill.
Of course, the two companies have ongoing offers on their products. But the Broil King appliance is still cheaper ($668) than the Napoleon natural gas grill (($1,449).
Winner: Broil King as you get to save $400+ on the grill
Extra Accessories
Without a doubt, Napoleon is the clear winner in this part. For one, the company sends the gas grill with a rotisserie, which is very crucial in any grill for barbecuing and roasting your meat.
Secondly, the Napoleon grill has the extra "Sizzle Zone" that you can use to sear and or cook your meat/ vegetable. The searing station, as I like to call it, can even boil a pot of water for preparing your lobster.
On the right, the Napoleon Prestige 500 also has a working surface with a cutting board and a basin. So, you can even pour some ice there to chill your drink for beating the heat while barbecuing.
As for the Broil King Baron Pellet 500 grill, you'll have to purchase the rotisserie separately (if interested). It also doesn't have the "special" searing station, in which case you'll have to use the main cooking area to decorate your steak.
Winner: Napoleon as the grill comes with a rotisserie, searing station, a better working surface
Best design/ Style
I'm also going to choose the Napoleon grill over the Broil King in this part. Yes, of course, the aspect varies with an individual, but the Prestige 500 grill still looks prettier on the outside.
Also, the gas grill has the option to choose your favorite finish, including black, grey, and stainless steel. Then, the illuminated control knobs and interior lighting allow you to carry on with your cooking in low-lighted scenes.
Indeed, the one-touch buttons and display of the Broil King Baron Pellet also have an integrated backlight. But the machine doesn't have lighting in the cooking area or the option to choose your desired finish. It only comes in the standard black finish.
Winner: Napoleon as it has a sleeker front, interior lighting, and three finishes to consider
DIY Setup
Both Napoleon and Broil King provides their grills when boxed up and you'll have to assemble them yourself. But while the appliances have a DIY setup, you'll need to have an extra pair of hands to ensure you have everything standing upright.
In particular, the Napoleon grill has the cabinet doors you need to align properly and ensure they open/close well.
Winner: Both brands as the grills require you to set up from the scratch
Grilling Heat
Both grills work on meat pretty well and should have shared the point. However, the Napoleon Prestige 500 has a slightly higher heat output, reaching over 600°F from the integrated four main burners.
You'll actually notice the grill also gets up to temperature very fast, with the side searing station taking less than a minute. And as mentioned earlier, it's the hottest grill area (1800°F), where you can cook your steak in under ten minutes.
On the other hand, Broil King advertises their pellet grill to reach a maximum temperature of 600°F. And while it might be true during their factory test, the model we currently have in the market has a slight offsetting.
In other words, when you set your pellet grill to cook at 600°F, the actual cooking temperature will be in the 500s°F. It's a problem a handful of people have complained about on various platforms. But others are cool with it and decide to offset their needs vs the displayed calibration.
As for the heating time, the Broil King grill takes 30 minutes to reach the Smoking temperature (it was a bit cold during the test). Then, a quick change from the smoking mode (about 200°F) to the grilling setting (550°F) took ten minutes.
Winner: Napoleon as the gas grill heats up pretty quick and also the searing station is very hot.
Cooking Methods
When you compare Napoleon vs Broil King cooking methods, you'll notice they both offer pretty similar capabilities. If it's the main cooking area, you can grill on the top rack and use the bottom one to warm the meal.
The cooking grids also have a sharp edge (not all) to leave your steak with the perfect grill marks you desire. Then, the Rotisserie allows you to roast and barbecue your bird or pork more evenly while marinating throughout the rotation.
If you want to add your meat with a unique smoky flavor, the Broil King only requires you to use your desired pullet scents. But on the Napoleon gas grill, you might need to get the optional charcoal and tray smoker or the smoker tube box.
Winner: Both grills can grill, roast, sear, smoke, and warm your food
Smart Control
Last but not least, all the two grills are pretty straightforward to start and operate. But I'm sure you'll find the Broil King model more fun to work from the featured compatibility with a smartphone.
The company designed the pellet grill with WiFi & Bluetooth connectivity that enables communication with the Broil King Pellet Grilling App. Thus, allowing you to "control your cooking experience, get recipes, monitor cooking programs, et cetera right from your palm.
Nonetheless, I'll advise not to have high expectations of this functionality at the moment. Yes, the app will work, but it's not always accurate, which is something you can't take chances on when barbecuing.
On its end, the Napoleon grill doesn't have the smart mobile app function or user-settable timer. You'll have to rely on the physical knobs for all the operations.
Winner: Broil King as it has easy to use one-touch buttons, control display, timer, and smartphone app
Quick Related Questions
Are Napoleon grills manufactured in China?
Napoleon mostly manufactures its grills in the North American region (Ontario, Canada & Kentucky, USA). But just like many other manufacturers today, they also design their products here in America, then complete production in China.
Is Broil King made in the USA?
Similarly, Broil King mostly makes most of its grills in North America (Huntington, USA & Ontario, Canada). But they also do some of their products in China.
Are Napoleon grills worth the money?
In my opinion, YES, Napoleon grills are worth it. For one, the main parts of the grill have a lifetime warranty, which means the owners do trust their quality. Secondly, the grills cook well and fast. Then, they come with a rotisserie and a special searing station to leave your steaks with perfect grill marks.
Final Thoughts
Well, Broil King and Napoleon are both great grills for roasting and barbecuing in your yard. They have almost similar main cooking areas and you can use them for either of the five cooking methods you prefer.
Nonetheless, the Napoleon gas grill is still my favorite grill, mostly for the side burner for the searing. It also cooks pretty fast and the included rotisserie isn't just good for barbecuing, but also to roast coffee beans.