A 5-burner gas grill is usually the best pick to cook various foods at different temperatures. In our Lion vs Blaze comparison review, you'll also notice some of these grills have a rather large cooking area and an optional infrared burner.
So, you can cook for a group of a dozen or more people fast and also achieve the perfect sear on your steak or burgers.
Verdict: 6 Reasons Lion Grill's My Favorite Pick
The Lion grill has more cooking space
The Lion grill comes with a rotisserie kit
The grill has an island sink & door combo
Lion grill has a hotter rotisserie infrared burner
The Lion grill comes with a stainless steel smoker box
The Lion grill is compatible with a charcoal tray insert
Lion vs Blaze Grill: A Summary of the 5-Burner Gas Grills
Both Lion & Blaze have various families and models of grills to choose from for your barbecue. But in this review, we'll be focusing on the 40-inch 5-burner models- Blaze LTE and Lion L90000.  
Blaze Grill

vs

Lion
Image


Blaze Grill Price


Lion 40 inch Price
Facts
Blaze LTE 40-Inch Grill
Lion L90000 40-Inch Grill
Grill Series
Premium LTE
Lion Premium
Type of Fuel
Natural Gas
Natural Gas
Dimensions in inches
25.75 by 39.5 by 21.25
24.25 by 40.0 by 21.5
Main Cooking Area
670 sq. inches
802 sq. inches
Secondary Cooking Area
227 sq. inches
228 sq. inches
Cooking grates Material
304 Stainless Steel
304 Stainless Steel
Total Main Burners
Five (+ infrared rotisserie burner)
Five (+ infrared rotisserie burner)
Total Heat Output
80,000 BTU/ hour
90,000 BTU/ hour
Grilling Temperature
Over 600°F
Over 600°F
Rotisserie Kit Included
NO (purchased separately)
YES
Control Type
Physical Knobs (w/ night light)
Physical Knobs (w/ night light)
Built-in Temperature Gauge
Mechanical (Analog)
Mechanical (Analog)
Interior Lights
YES
YES
Best Extra Features
Slightly cheaper, heat zone separator, & frame stabilizing grids
Relatively more cooking spaces, flat top griddle, & island assembly parts
Standard (Free) Warranty
Lifetime (most parts)
Lifetime (most parts)
Details






Lion Grill Mini-Review
The Lion L90000 is a nice gas grill if you're looking for a premium cooking experience. It's a bit pricey to own, for sure. But in return, you get more grilling space and extra accessories to add extra versatility to your outdoor kitchen.
One of the said accessories is a motorized rotisserie kit to slow-roast your chicken or turkey while self-basting. Then, there's also a flat griddle piece that you can use for delicate dishes like bacon, fried eggs, fish, et cetera.
Pros:
It heats well & fast
Has a sleek, well-made build
Comfortable to operate even at night
Effortless to install the infrared burner unit
You can add a charcoal insert for classic charcoal grilling
Cons:
It's very pricey to own
Takes a long time to assemble
The hood doesn't have a light-lift spring
Blaze Grill Mini-Review
The Blaze LTE also fits the bill if looking for a premium gas grill to have at your home. It has an elegant and durable 304 stainless steel construction, with a thick, double-lined hood to deliver high heat retention.
At a 900-square-inch area, the Blaze gas grill can efficiently cook 28-33 burgers and a dozen sausages at the same time. Then, you could also add a rotisserie accessory to roast a whole bird while self-basting.
Even better, the 5-burner gas grill has removable heat zone separators. So, you can cook in different zones with optimal temperature control.
Pros:
It heats up fast & efficiently
Comfortable to operate at night
Easy to hook up an infrared burner
It has a flame stabilizer grid to minimize flare-ups
The burners have a roof to protect the ports from debris
Cons:
It doesn't have smartphone control
No spring to help on opening the hood
It also doesn't have a charcoal insert
Lion vs Blaze Grill: Comparing Features & Capabilities of the Grills
In this section, we'll now go through the differences between the Blaze and Lion 40-inch gas grill. They include:
Best of Pricing
All the two grills are pretty expensive to own. But the Blaze LTE is going for around $2750, whereas the Lion L90000 has a price tag of $3371.
In simple math, that's a price difference of up to $621. So, you could purchase the Blaze grill alongside Weber Q1200 and Q2200 to gift your loved one or use during camping.
There might be a chance to save a few bucks on either of the gas grills during the Prime Day Patio & Garden Deals. Then again, the Blaze grill is still likely to be cheaper than the Lion model.
Best of Accessories
The Lion grill is the clear winner in this part. Its price tag doesn't just include the usual cooking accessories- grill grids and warming rack. You'll also get a gourmet package and a 4-in-1 BBQ tool set to enhance your grilling experience.
The gourmet bundle comprises a rotisserie kit (including motor), grill head cover, smoker box, griddle, and griddle remover (also works as a bottle opener). Then, the 4-in-1 BBQ tool has a spatula, basting brush, barbeque fork, and wine corkscrew on one Rosewood Handle unit.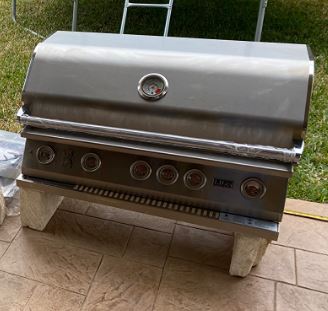 As for the Blaze grill, the box arrives with only the main cooking grate and the top warming rack. You could also use a rotisserie, griddle, and smoker box while barbecuing. But the company never provides either of these items, thereby will have to purchase separately.
Best of Build & Style
The two grills kind of feels the same here. They start with a sleek and shiny stainless finish to bring that cookware touch to your outdoor kitchen. Then both have a solid 304 stainless steel build, which you should know usually contains nickel. Thus, more resistant to corrosion than the 430 stainless steel that most manufacturers use.
The burners of the grills are also 304 stainless material, and so are the flame tamer, hood (double-layered), plus cooking grates.
In case you're wondering, the flame tamers are like the flavorizer bars on the Weber Genesis II E-315 and E-335.
Nonetheless, the tamers on the Blaze grill are what they call Flame Stabilizer Grid. And with its full-width perforated design,  the cookbox has better heat distribution than the single tent-shaped bars (on the Lion grill).
DIY Set-Up
Our two grills are also kind of alike here as you can get either with a freestanding or built-in design. The build-in design has only a grill head to mount to your custom island for a more permanent grilling kitchen.
Lion has actually been more than generous with their built-in grill as you get all the parts to complete your outdoor kitchen. The said items include a Door/ Double Drawer Combo (with even towel rack), sink, and Mini-fridge (not outdoor rated).
On the other hand, the Blaze Premium LTE only comes with a grill head to mount on your island cavity. Then, you'll have to purchase the Access Door/ Drawer Combo unit and the other add-ons separately.
Remember: The links I've embedded on the Blaze & Lion grills above are the built-in models. The freestanding models with a mobile cart are kind of hard to come by, but a few retailers do stock them.
Best of Heat Output
Both Lion and Blaze grills are primarily designed to burn on natural gas. You could convert to liquid propane with the right conversion regulator. But regardless of what gas you use, the firebox will still heat up faster than a charcoal grill.
Speaking of heating, the Lion L90000 grill has each of the five burners with a heat output of 15000 BTU per hour. And that gives total energy of 75,000 BTU per hour, whereas the Blaze grill outputs 70,000 BTUs.
Best of Performance
As I've just mentioned, the Lion grill has 5,000 BTUs more heat output of the gas burners than the Blaze LTE. Its infrared rotisserie burner also outs 15,000 BTUs of heat, which is about 50% hotter than that of its counterpart.
So, you'll notice the Lion cookbox achieves 400°F temperature slightly faster than the Blaze grill with all burners on (gas + infrared). You could even achieve that temp range within seconds if you replace the gas burners with a 14,000 BTU infrared burner.
But the Blaze grill also has an option to do exactly that with 14,000 BTU infrared burners. And in this approach, you'll notice it heats up slightly faster since the cookbox is slightly smaller.
Best of Cooking Convenience
On the Blaze vs Lion grill cooking convenience, the latter win my point. And the first reason for that's the cooking space, whereby its 802-square-inch grates can accommodate 33-40 burgers in a single run.
Secondly, the Lion grill comes with the rotisserie kit to slow-roast your whole chicken/ turkey and a griddle for delicacies. Then, there's also a stainless steel smoker box if you want your dishes to have an extra layer of smoky flavor.
Furthermore, Lion L90000 has an optional charcoal tray insert to embellish your food with a classic cooked-on-charcoal aroma. And that's something the Blaze Premium LTE doesn't support at the moment.
The Blaze grill also doesn't come with a rotisserie kit, griddle, or smoker box. You'll have to purchase them separately as per your cooking needs.
Then the main cooking grates have a 670-square-in area, which accommodates a total of 28-33 burgers with enough flipping space. Thus, 5-7 burgers less what you can make with Lion grill.
Commonly Asked Questions
Are lion grills made in USA?
Like most brands today, many Lion grills are not entirely made here in the U.S. Here they only do the designing, then complete the production process from the facility in China.
Which brand of gas grills is best?
Between the two, Lion L90000 is the best brand of a gas grill as you get a rotisserie, griddle, smoker, and BBQ tool set. Then, there's a complimentary set, including a sink, fridge, and access door/ drawer combo to complete your island construction.
Where are Lion grills manufactured?
As I've mentioned, Lion manufactures their grills in the production facilities in China. But the design and all innovative processes happen here in the U.S.A.
Do blaze grills rust?
If cared for well, the Blaze grills can serve you for decades without rusting. On top of the silvery finishing, they have a 304 stainless steel body, hood, burner, flame tamer, and cooking grates. Thus, highly resistant to corrosion than the commonly-used 430 stainless steel.
                                                  In Conclusion:
Both Lion and Blaze are no doubt great gas grills to consistently cook for a large group. The stainless steel build quality is also pretty much the same, and so is the warranty support (one year on electrics & lifetime for other parts).
However, the Lion grill still has far better perks, which is why I'm still retaining it as my favorite pick.
For instance, the cooking space's slightly larger to accommodate those two additional people the Blaze grill cut out. Then, the rotisserie and griddle make it easier to expand your culinary menu with different foods right away.