Few names in the world of outdoor grilling resonate as powerfully as Weber. Invented by Weber's founder, the Original Kettle is not just a grill, but a testament to the timelessness of good design, refined over the decades yet fundamentally unchanged. Today, we delve deeper into the modern version of this iconic grill, examining its features, build, and why it continues to be a beloved choice for barbecue enthusiasts around the globe.
Check here Weber Kettle 18 vs. 22
Features that Stand Out
The Weber Original Kettle Charcoal Grill, with its 22-inch diameter, is no ordinary grill. Here are some of its standout features:
Precise Heat Control: The grill comes equipped with dampers that allow users to adjust and maintain an exact temperature, ensuring that your steak is grilled just the way you like it.
Superior Heat Retention: The porcelain-enameled lid and bowl are designed to retain heat, ensuring efficient cooking and fuel use. Plus, you don't have to worry about rusting or peeling over time.
One-Touch Cleaning System: Gone are the days of struggling with post-barbecue clean-up. The grill boasts a One-Touch cleaning system, making ash removal a breeze, further enhanced by a removable aluminum ash catcher.
Durable Cooking Grate: Designed for daily use, the grate is sturdy and ensures your barbecue is evenly cooked.
Heat Shield: This feature ensures safety, minimizing the chances of accidental burns.
Convenience and Practicality: The grill can hold up to 13 burgers made using a Weber burger press. Additionally, there's a lid hook, ensuring you never have to place the lid on the ground.
3D Interactive Assembly: For those who dread the thought of assembly, Weber offers interactive 3D instructions via the free BILT app, making the process straightforward.
Build and Design
Sporting a classic black color and finished in a durable paint, the grill is designed for outdoor use. With a combination of porcelain, aluminum, and steel materials, it promises durability. It's lightweight at just 3.3 pounds (or approximately 1.5 kilograms). The aluminum frame material is robust, and the installation types include ground mount and peel.
Additional Information
Model Name: Weber
Manufacturer: Weber
Part Number: 741001
Country of Origin: USA
Item model number: 741001BLK
Size: 38.5″ H x 20.5″ W x 25″ L
Style: Grill
Power Source: Charcoal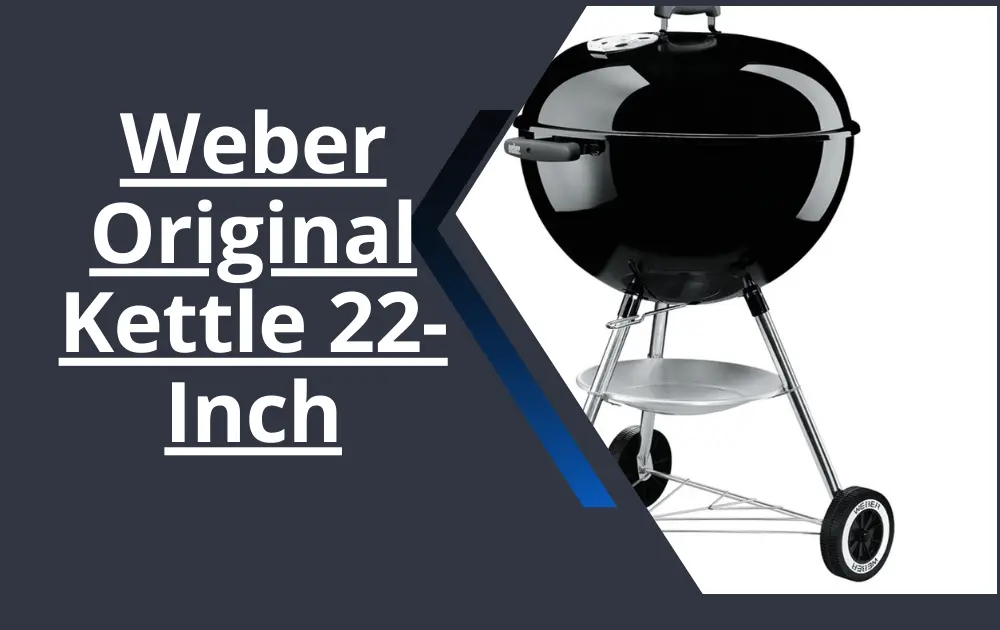 For those wondering about its origins, this model proudly hails from the USA and, as of the latest information, hasn't been discontinued by the manufacturer. It's a testament to Weber's commitment to quality, performance, and timeless design.
FAQs: Understanding Your Weber Kettle Grill
How do I determine the year of my Weber kettle?
A: Weber grills often have a date code stamped on the lid damper or the lid itself. This code, usually a two-letter representation of the year and month of manufacturing, can help you determine its age. Features, styling, and serial numbers can also offer clues. If in doubt, consult Weber enthusiast forums or Weber's customer support.
What distinguishes the Weber Master Touch from the Original Kettle?
A: Several features differentiate the two:
Size: Master-Touch typically comes in a larger 22-inch size, while the Original Kettle has multiple sizes.
Grate System: Master-Touch boasts the Gourmet BBQ System cooking grate, which is versatile and compatible with various accessories.
Additional Features: Master-Touch often includes a built-in lid thermometer, a high-capacity ash catcher, and a Tuck-Away lid holder, which might not be present in the Original Kettle.
Is investing in a Weber kettle worth it?
A: Yes, for many barbecue enthusiasts, the Weber kettle represents good value because of its:
Durability: It's designed for longevity with rust-resistant components.
Performance: It ensures consistent cooking results with even heat distribution.
Versatility: Suitable for a range of cooking methods from grilling to smoking.
Legacy: Weber's reputation for quality and service adds to its appeal.
How does the Weber Compact differ from the Original?
A: The Weber Compact is a more budget-friendly version of the Original with differences like:
Ash Catcher: The Compact generally has a basic aluminum ash pan, whereas the Original may feature a One-Touch cleaning system with a larger ash catcher.
Features: The Compact might lack certain features like tool hooks or a built-in thermometer, which the Original might possess.
Price: Reflecting its basic features, the Compact is usually priced lower than the Original.
Conclusion
The Weber Original Kettle 22-Inch Charcoal Grill is more than just a cooking apparatus. It's a piece of history, a testament to the love of grilling, and a commitment to perfection. Whether you're an avid griller or a newbie, this grill promises to deliver outstanding results, making every barbecue session a memorable one. If you're looking to invest in a grill that combines tradition with modern features, the Weber Original Kettle might just be the one for you.