A fresh palette of flavors, the smoky scent in the air, and the irresistible allure of a well-grilled meal – the Weber Q2000 Liquid Propane Grill in White makes all this possible in a snap. With a blend of user-friendly features, compact design, and high-quality build, this grill promises to elevate your outdoor cooking experiences, whether in a spacious backyard or a cozy balcony.
Striking Features and Specifications:
Special Features:

Push-Button Ignition: A single push brings your grill to life, ensuring hassle-free start-ups every time.
Folding Side Tables: Adds to your prep space and folds away for streamlined storage.
Removable Catch Pan: Keeps your grilling neat and clean-up straightforward.
Compact Design: Apt for small spaces without compromising on the grilling area.
Porcelain-Enameled, Cast-Iron Cooking Grates: Ensures durability and top-notch heat retention for perfect grilling marks.
Powerful Heat: The single stainless steel burner outputs a substantial 12,000 BTU-per-hour, perfectly heating the 280 square-inch total cooking area.
Quality Build: With porcelain-enameled cast-iron cooking grates and a cast aluminum lid and body, the grill assures longevity and rust-resistant performance.
Dimensions: Sporting a size of 14.5H x 51.4W x 19.5D inches with the lid closed and tables out, it is thoughtfully designed to fit various outdoor settings.
Easy Operation: Push-button ignition and infinite control burner valve settings provide effortless control over your grilling.
Fuel: Utilizes disposable 14.1 or 16.4 oz. LP cylinders, available separately, keeping refueling convenient.
Refined Aesthetics, Robust Construction:
The Weber Q2000, with its classic white finish, not only offers a clean, refined aesthetic but also complements various outdoor décor styles. The stainless-steel frame, coupled with an aluminum body and lid, ensures a perfect mix of elegance and durability.
Unboxing and Getting Started:
Here's a win – the Q2000 comes fully assembled out of the box, allowing you to dive straight into your culinary creations without the hurdle of complex setups.
Versatile and User-friendly Grilling:
The Weber Q2000 places an array of grilling possibilities at your fingertips. From searing steaks and grilling vegetables to toasting buns, its versatility is unmatchable, ensuring every meal is a celebration.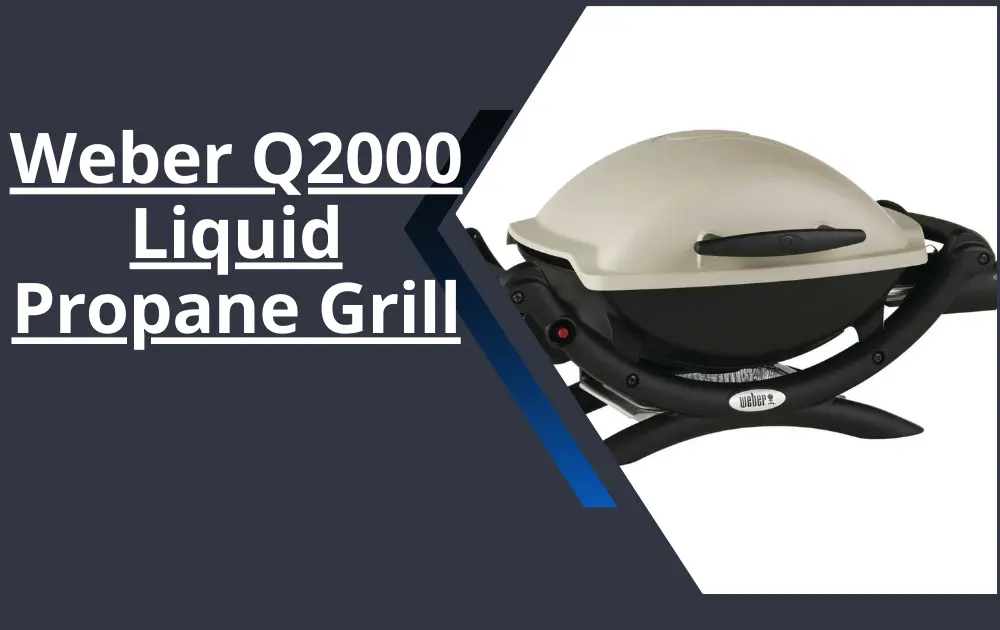 A Grill for All:
Weighing in at 42 pounds and designed to be free-standing, the Q2000 is not just a grilling marvel for the chefs but a reliable cooking companion for every individual who loves to explore the world of barbecues and grills.
Setting up the Weber Q2000 Liquid Propane Grill
Placement: Position the grill on a stable, level surface in an open area, away from flammable materials.
LP Cylinder: Acquire a disposable 14.1 or 16.4 oz. LP cylinder (sold separately). Ensure the grill's control knob is OFF, then attach the cylinder to the grill's regulator by turning it clockwise.
Leak Test: Briefly, check for gas leaks. Apply a mix of water and soap to the cylinder connection. Turn on the gas; bubbling indicates a leak. Ensure connections are tight and re-check.
Ignition: Open the grill lid, turn on the gas, and press the ignition. If it doesn't light immediately, wait a few minutes before retrying.
Preheat: Adjust to your desired temperature and preheat for about 10 minutes. Use the side tables for tools and ingredients.
Post-Grilling: After cooking, shut off the burner and LP cylinder. Allow cooling before storing.
Maintenance: Regularly clean grates and periodically inspect the grill for wear or damage.
Remember, always prioritize safety with propane grills and refer to the Weber Q2000 manual for comprehensive guidelines.
Frequently asked questions (FAQs) and their answers about the Weber Q2000 Liquid Propane Grill:
How do I start the Weber Q2000 grill?
Answer: The Weber Q2000 features a convenient push-button ignition system. Simply press the button, and the grill will ignite, making start-ups quick and effortless.
What is the total cooking area of the Q2000 grill?
Answer: The Q2000 boasts a generous 280 square-inch total cooking area, providing ample space to grill a variety of dishes simultaneously.
Which LP cylinders are compatible with this grill?
Answer: The grill is designed to work with disposable 14.1 or 16.4 oz. LP cylinders. Please note that these cylinders are sold separately.
Does the grill require assembly upon purchase?
Answer: No, the Weber Q2000 comes fully assembled out of the box, allowing you to start grilling without the hassle of setting up.
What materials are used in the construction of the Q2000 grill?
Answer: The Q2000 features porcelain-enameled cast-iron cooking grates, a cast aluminum lid and body for longevity, and a stainless-steel frame for added durability and rust-resistance.
Conclusion:
Embodying a design that's both compact and highly functional, the Weber Q2000 Liquid Propane Grill is a sterling addition to any outdoor cooking setup. It champions convenience with its push-button ignition, folding tables, and removable catch pan, while the substantial BTU output and generous cooking area assure a premium grilling experience.
Whether you're a seasoned grill master or a weekend BBQ enthusiast, the Q2000 ensures every grilling adventure is simple, enjoyable, and, most importantly, delicious.