In this article, we're going to show how to fix hole in bottom of charcoal grill. If you have one, you'll know this is a common issue on the cooking equipment from the exposure to ash, grease, and moisture.
Even without the dripping grease, the bottom metal plate of your charcoal grill will eventually fall apart on normal wear and tear. The hot ash falling on it is like a magnet of moisture, which, as you know, is the element of corrosion. And the only way you could avoid that would be with a ceramic equipment like Primo or Kamado Joe.
Regardless, you can delay the on your metal charcoal grill with proper care and maintenance measures. Continue reading for some of these DIY fixes and tips you can try.
Can I Still Use My Charcoal Grill with a Hole in the Bottom?
A lot of people will continue to use their charcoal grill even with a hole in the bottom. If I'm truly dying for a smoked grill ribeye steak, I'd do the same as well. But in doing so, it's just making things worse. Why so?
When you lit up a charcoal grill with a hole in the bottom, it's likely excess air will flow into the firebox. And that may cause flare-ups which not only burns your food but can also be incredibly dangerous.
A hole in the bottom of a charcoal grill will also make it impossible to control the desired cooking temperature. Other than burning your food, you'll also find it hard to do slow cooking or achieving that rich, smoky flavor.
Indeed, that hole/s on the bottom of your charcoal grill will have the ashes and grease dripping all over your cooking area. Thus, having the space look untidy and also making it harder to do the cleaning.
If the hole on the charcoal grill is large enough, it will not just let through the ashes and grease. The hole will also let in the small burning charcoal bits that fell through the (charcoal) grate perforations. And that as we know it is one of the careless behaviors that cause fire outbreaks.
True, that hole in the bottom of your charcoal could turn into a serious issue if not fixed immediately. It might seem as small at first. But in a couple of weeks, you will have a large decay followed by the whole bottom metal plate falling apart.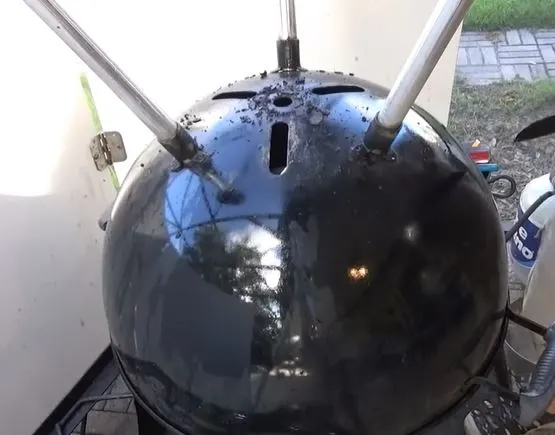 Three Methods To Fix Hole In Bottom Of Charcoal Grill
Technically, it's so simple to fix hole in the bottom of your charcoal grill. The reason I am saying this is for there are various ways to handle it. Thus, you get to choose what works best for your situation.
Use an Aluminum Pan to cover the Hole
If you really miss a grilled meal, you can temporarily cover the hole in bottom of your charcoal grill with a piece of sheet. The method is mostly a quick fix with something like an aluminum pan or a small sheet of metal.
However, it will work best with small holes where the largest part of the metal bottom is still intact and solid. Also, it might be kind of annoying as you'll have to repeat the process every time when grilling.
If you can, this is a more permanent solution to fix your charcoal grill and not just with large holes. But also if the whole bottom has decayed and fallen apart since you'll be applying a new layer of metal.
The only issue is that you must know the basic metalworking techniques to carry out the welding. Then you need to have various power tools, such as a MIG welder, metal cutter saw (band saw/ circular saw), and sandblaster.
Use a Piece of metal Mesh
Last but not least, you can fix the hole in the bottom of your charcoal grill using a (woven) metal mesh sheet. It can work by just lining the mesh across the entire bottom of the cooker or fixing it up with a sealant.
However, the sealant you use here should have a high heat resistance like the DAP High Heat Mortar. Otherwise, the hot dropping on the meat sheet will melt it (sealant) down and your grill will go back to having a hole.
How To Fix Hole In The Box Of Charcoal Grill With A Metal Mesh
Technically, this is the easiest semi-permanent way to fix a hole in bottom of charcoal grill for most of us. It's still not the best as ash dust might still fall through to the ground.
But with fine perforations like on the TIMESETL metal mesh sheet, the hot coals and grease may not have a chance.
Anyway, to fix the hole in the bottom of your charcoal grill with a mesh sheet:
You'll need:
A piece of fine metal mesh (like TIMESETL304 or similar)
A heat resistant sealant (like DAP High Heat Mortar or similar)
A sheet of sandpaper or powered sandblasting tool
A pair of heavy-duty wire cutter (like the Klein Tools D2000-28)
A tape measure (optional)
What You'll need to do:
Empty out the coal ashes or any debris that may be still present on the bottom
Make sure that the area of the hole you want to fix is completely dry. Remember we're using a sealant as the "welding" agent and it doesn't hold on wet surfaces.
Gather everything you need, including the tools and the damaged grill, in one place
Measure the dimensions of the hole you want to fix using a tape measure or a piece of string. Alternatively, you can place the sheet of metal mesh over the hole and mark the size you want
Next, cut the sheet of metal mesh that should fit properly over the hole on your grill. Make sure the piece you cut is slightly larger than the hole to get a nice seal
Now, sand down the edges of the hole to create a smooth surface that the patch you'll be making can hold
Then, apply a gentle amount of the heat resistant sealant to the back of the metal sheet you cut
Finally, press the piece of mesh sheet over the hole and allow the sealant to dry completely
Once the sealant dries, the metal mesh should be holding over the hole on grill and you should be able to grill smoothly again.
Well, not exactly as you used to when the appliance was brand-new. But at least without hot coal staining your floor or risking a fire outbreak.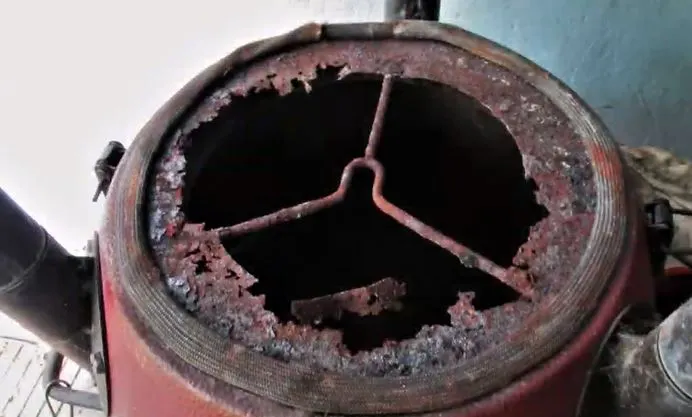 Can I Use a RapidFix UV Repair Patch to Fix Hole on Charcoal Grill?
I've heard some people say you can use a RapidFix UV Fiber repair patch to fix a hole in bottom of a charcoal grill. But can it really work?
Well, first, I'm not going to promise if the method will work or not as I haven't tried it out myself. But based on how it seals PVC materials and metal tube leaks, it should work in this case as well.
On the company forum, the manufacturer has even confirmed you can use the patch on metal surfaces, included over a rusted area. The the physical and chemical properties also proves it can hold well in most grilling conditions.
For instance, the adhesive patch has a flash point (temperature until it creates flammable vapors) of up to 840º F. Then, the material itself is self-extinguishing (doesn't hold a flame), resistant against oils, and doesn't melt.
So, in my opinion, YES, you could use a RapidFix UV Repair Patch to fix a hole in the bottom of charcoal grill. Only make sure you clean and sandpaper the hole smoothly for it to stick up appropriately.
How to Prevent a Hole Forming in the Bottom of my Charcoal Grill
There are various ways you can prevent a hole from forming in the bottom of your charcoal grill. But the first and most crucial of all will be to invest in a high-quality product with premium material that doesn't corrode easily.
For instance, stainless steel usually have better protection against corrosion than cast iron. Thus, it will take longer time for the bottom of the grill to rust and wear down.
Other cheap ways you can delay the metal plates of your grill from wearing down fast include:
Cleaning out the ash from your grill after every use. Don't wait until the next grilling session as a lot of people do.
 Store your grill in a dry place away from harsh elements like rain and humidity. If you'll be storing in outside in the open, make sure you cover with a water-resistant cover
Monitor your grill regularly for any signs of wear and address them early before progressing to a serious problem. For instance, you can be checking for any sign of rust then scrub it off as it's how the corrosion will start.
Aluminum Foil Could Work But…
In conclusion, that's how you can fix a hole in the bottom of your charcoal grill by yourself. It's something you can do within minutes and without any expensive purchases.
For example, the heat-resistant sealant and metal mesh sheet will both cost you less than twenty bucks. then the Rapidfix UV Fiber Repair patch will cost $25 to $50 depending on the size of your holes.
You could opt for the free temporary fix by covering the hole with a pan or any piece of metal sheet from the house.
I've seen some people say on Reddit that you can try covering the hole with an aluminum foil. But this material can be flammable at some point, thereby it's  more a temporary fix and shouldn't  be glued.