Blackstone is one of the brands to consider if looking for a portable flat top griddle grill. Its whole catalog actually has only these appliances and their accessories. But then, between Blackstone 17 vs 22 griddle station, which would be a better choice for RVing?
Well, first, I apologize for my bad grammar. But for the rest of this review, we can pretend RVing (meaning vacationing in an RV- recreation vehicle) is a word.
Secondly, Both Blackstone 17 and 22 fall in the category of tabletop griddle grills. So, either can be great for RVing or cooking at a home with a small backyard. The only thing that will change is the overall cooking experience.
Also, check Blackstone 22 vs 28 Comparison
Verdict: 5 Reasons Blackstone 22 is my Favorite Griddle
The Blackstone 22 has a higher heat output
The Blackstone 22 has better heat control
The Blackstone 22 has a larger cooking area
The Blackstone 22 can use a 16-oz or 20lbs gas can
The Blackstone 22 is available with & without a top hood
Blackstone 17 vs 22: A Summary of the Outdoor Camping Griddle Stations
Blackstone 17

vs

22
Image


Blackstone 17 Price


Blackstone 22 Price
Griddle Series
17-inch Tabletop
22-inch Tabletop
Dimensions in inches  
18.0 by 18.5 by 6.8
19.0 by 22.5 by 9.0
Net Weight
17 lbs.
32 lbs.
Finishes Options
Black only
Black only
Type of Fuel
Propane
Propane
Main Cooking Area
Approx. 267 sq. inches
Approx. 356 sq. inches
Secondary Cooking Area
N/A
N/A
Griddle Top Material
Rolled Steel
Rolled Steel
Total Main Burners
One
Two
Built-in Igniter
YES
YES
Heat Output
12,000 BTU/ Hour
24,000 BTU/ Hour
Temperature Levels
Six
Six
Control Type
Physical Knob
Physical Knob
Temperature Gauge
NO
NO
Best Features
Noticeably cheaper, lightweight, compatible with 16-oz or 20lb gas, & an innovative drip pan
Larger cooking area, dual burner, compatible with 16-oz or 20lb gas, & griddle top hood
Details on Amazon






Should I Get the Blackstone 17?
Are you looking for a compact griddle grill you can carry and use about anywhere? The Blackstone 17 has a relatively small base footprint and weight. So, it could be a perfect fit for your RVing, camping, tailgating, and such.
But even with a compact design, the Blackstone 17 can accommodate up to a dozen smash burgers or 32 hotdogs. And for that, you can efficiently cook for three to four people to the fill.
Another thing, the griddle unit is available with even a top hood. Thus, making sure the cooking area has even heat distribution to handle delicate food like pizza.
But that said, the griddle grill has only one burner. And while it's possible to adjust the cooking temperature with the integrated knob, you won't have as much control as the two-burner equipment.
Should I Get the Blackstone 22?
The Blackstone 22 is a great griddle station if you like the compactness of the model 17 but would love to cook more food. It has an approximately 356-square-inch cooking area, where you can efficiently cook 15-20 standard burgers or a dozen pancakes at one time.
Even better, the Blackstone griddle grill has two of the H-shaped burners, each with its own heat control. So, you'll find it much smoother to cook different meals at the same time.
Furthermore, the Blackstone 22 is available with and without an added top hood. Thus, it's possible to even cook ribs and delicacies like pizza or crabs.
But as you do the delicacies, the lowest heat level of the grill is still a bit high. So, you should start your adjustment from that point to avoid burning your food.
Blackstone 17 vs 22: The 8 Main Similarities & Differences of the Tabletop Griddle Grills
Pricing
The Blackstone 17 is the clear winner here. You'll get it at a price tag of $120 without the top hood and $155 with it.
On the other hand, the Blackstone 22 usually retails at around $200 without the hood or $209 with one. However, the company currently has a limited-time offer with up to $40 savings on the grill without the top hood.
Cooking Accessories
When looking at the Weber Q2000 vs Q2200  features & perks, we saw you can replace the BBQ grate with a cooking griddle. Thus, making it possible to roast, smoke, and even fry your food on the go with ease.
As for our case, neither of the two Blackstone griddle grills has a compatible BBQ grate. They only come with the flat cooking top for frying tasks: eggs, bacon, hot dogs, steak, pancakes, burgers, et cetera.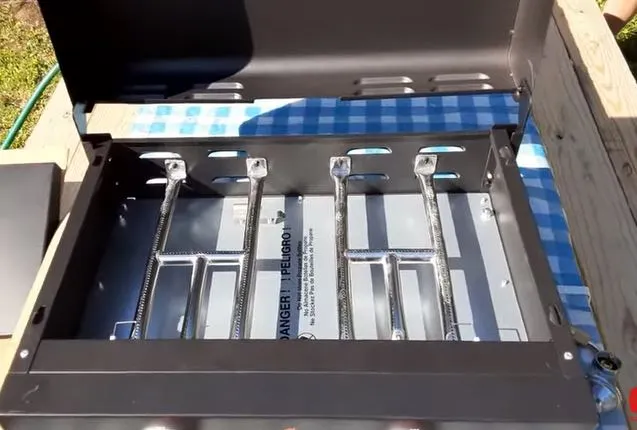 But as I've also mentioned, you can get the Blackstone 17 and 22 with or without a top lid.
Build & Design
Personally, the Blackstone 17 has a more innovative design, especially with the pull-out grease drip pan at the front. But apart from that, the griddle grill has the rest of the construction similar to the 22-inch model.
For instance, the two appliances have black powder-coated steel on the main frame, with a stainless insert at the front. The H-shaped burners are also stainless steel to prevent the gas holes from blocking with rust.
Meanwhile, Blackstone has used rolled steel for the cooking top of both the 17-inch and 22-inch tabletop griddle stations. You'll want to provide extra care on either, including thorough cleaning and protection against elements, to serve you for a couple of years.
Otherwise, the rolled steel catches rust very fast, which could render the cooking surface unusable in less than a year.
Portability
Either Blackstone 17 or 22 is a nice pick if looking for a portable griddle unit for camping and tailgating. They both have an easy five-stage assembly, with only the sitting feet, gas regulator, temperate knobs, and grease drip pan to put together on the main body.
Nonetheless, the Blackstone 17 has a relatively small base footprint. And for that, you'll find it slightly easier to squeeze in the limited space of your Van or RV than the Blackstone 22.
Further, the 17-inch griddle grill is about 15lbs lighter than its counterpart when set up. So, you'll also find it much easier to carry by hand around the campsite.
Burning Fuel
The two Blackstone grills take the point here. Not only do they burn on liquid propane, but also you get to use the small 16-oz gas can.
However, the Blackstone 22 drains the small propane bottle much faster as it has a higher heat output. But instead of carrying many 16-oz cans, you can just get the adapter hose and connect to a 20lbs or 45lbs propane tank.  
The Blackstone 17 can also hook up to the large gas tank of your RV (if available). Similar to the 22-inch model, though, you'll have to purchase the adapter hose separately.
Note: Blackstone does have a Natural Gas Conversion Kit if you don't want to use either of your tabletop griddle grills on propane.
Performance
In Blackstone 22 vs 17 performance test, the former takes the points. It has not only longer but two burners, outputting up to 24,000 BTU-per-hour of heat. So, you'll notice the cooking surface gets hot much faster than its counterpart.
Further, each of the two burners on the Blackstone 22 has its temperature knob. Thus, you'll have better cooking control than the Blackstone 17 with only a single burner.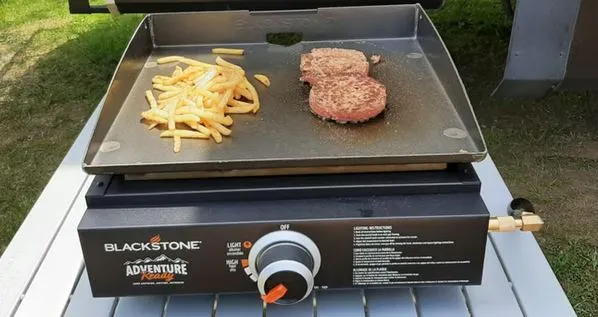 All in all, the temperature control knobs of both Blackstone griddle grills have variable heat levels. The only slight issue I've noticed is that the lowest temperature setting's still a little too hot. So, you'll want to use the gas-flow regulator to gain more accurate control of the burning flame.
Ease of Use
All the two tabletop griddle grills are pretty user-friendly. As was mentioned earlier, they have only a couple of parts to put together. So, it's faster to set them up than the flattop models like the Blackstone 28 with a built-in stand.
Once assembled, the Blackstone 17 and 22 are straightforward to operate. You just need to switch on the gas, then use the control knobs at the front to set the right temperature for your cooking.
Note: Blackstone 17 and 22 have a built-in electric igniter to light up the grill burners. But a matchstick could still work if the integrated starter fails.
Cooking Experience
The Blackstone 22 has an overall better cooking experience than the model 17. For one, it has a 356-square-inch cooking space, which is about 90-square-inch larger than its counterpart.
Secondly, the 22-inch griddle station has two burners, each with its own temperature knob. So, you'll have better control over your cooking, in that you can even have different types of food on the hot pan.
Lastly, the Blackstone 22 has the option to get a top hood, which can be handy when cooking something like ribs or pizza. But then, we've seen the 17-inch model can come with the hood as well.
Common Related Questions
Should I get the 17 or 22 Blackstone griddle?
Technically, both the 17-inch and 22-inch Blackstone griddles are great additions for camping and tailgating. But the Blackstone 22 has more cooking surface and also two burners that you can control the temperature individually.
What Size Propane Tank to Use for a Blackstone Griddle?
You can use the small size (16-oz) propane gas bottle with either the Blackstone 22 or 17 griddle grill. But for a smoother cooking experience without constant cut-offs, you can connect your grill to the large 20lbs, 25lbs, or 45lbs tank. Only make sure you get the right adapter hose.
Can You Smoke Food on A Blackstone Griddle
Technically, neither the Blackstone 22 nor 17 is for barbecuing or roasting your meat. There's also no option to add the flavorizer bars like the Weber Spirit grills. So, it'll be difficult to smoke food on the griddle
To Conclude:
Either Blackstone 17 or 22 can be a remarkable griddle grill in your collection of RVing, camping, or tailgating tools. They heat up well, use a small or large propane cylinder, and you can get the cooking top hood. Thus, making it possible to have an even heat distribution for pizza or any other food you'd like to slow-cook.
But even with that, the Blackstone 22 is still my favorite gas griddle, especially with the large cooking area and two burners.
The only thing I'm still not happy with is the cooking top that would be nice in stainless steel instead of the rolled steel. It would have been also nice if the company sent the grill with the adapter hose for the large propane gas.