Have you ever gone camping, only to realize your choice of venue doesn't allow campfires? Well, in this mini-guide, we're going to look at Blackstone 22 vs 28 outdoor griddles to ensure your sleep-out plans don't end in frustrations again.
Yes, indeed, a griddle station is everything you need to cook a perfect breakfast, lunch, and dinner while out camping.
Of course, the camping BBQ grills like the Weber Q1000 and Q1200 have the option to replace the main cooking grate with a compatible griddle insert. But a dedicated griddle station is the way to go if the idea is to fry more food faster.
Verdict: 5 Reasons Blackstone 22 Griddle is my Pick
Blackstone 22 is about $80 cheaper
Blackstone 22 comes with a top hood
Blackstone 22 is lighter and easier to carry
Blackstone 22 is quicker to set up or take apart
Blackstone 22 can use 16-oz or 20lbs propane can
Blackstone 22 vs 28: A Summary of the Outdoor Camping Griddle Stations
Blackstone 22

vs

28
Image


Blackstone 22 Price


Blackstone 28 Price
Dimensions in inches  
19.0 by 22.5 by 9.0
19.5 by 44.5 by 33.5
Net Weight
32 lbs.
75 lbs.
Finishes Options
Black only
Black only
Type of Fuel
Propane
Propane
Main Cooking Area
Approx. 356 sq. inches
Approx. 464 sq. inches
Secondary Cooking Area
N/A
N/A
Griddle Top Material
Steel
Steel
Total Main Burners
Two
Two
Built-in Igniter
YES
YES
Heat Output
24,000 BTU/ Hour
34,000 BTU/ Hour
Temperature Levels
Six
Six
Control Type
Physical Knob
Physical Knob
Temperature Gauge
NO
NO
Best Features
Slightly cheaper, compact body, compatible with 16-oz or 20lb gas, & griddle top hood
Larger cooking surface, mobility casters, removable side table, & bottom shelf
Bruners
2 burners
2 burners
Price Details






Should I Get the Blackstone 22?
Are you looking for a compact griddle grill that you can take about anywhere? The Blackstone 22 has a small footprint and a light weight that'll perfectly meet your requirements.
But even with the compact design, the gas griddle has a cooking space enough for up to fifteen burgers: not twelve as Blackstone advertises.
The outdoor camping griddle station also has two burners, each with its temperature control. Then, the cooking top usually comes with a steel hood if you'd want your food to cook more evenly and without foreign objects falling in.
Other pros and cons of the Blackstone 22 include:
Pros:
It has a sturdy, well-made body
Cooking surface gets hot pretty fast
Can connect with portable gas cans
Has a built-in igniter for quick lighting
It's an innovative grease management system
Cons:
The griddle top could be better
It has no adapter hose for a large gas tank
Should I Get the Blackstone 28?
Do you like the idea of the Blackstone 22 but need a larger cooking surface? The Blackstone 28 is a perfect upgrade if you won't mind adding a few extra bucks.
At a 464-square-inch cooking area, the griddle top can accommodate over two dozen burgers or pancakes in one go. So, you can efficiently cook for a group of seven to ten people so easily.
Conversely, that also means the gas griddle station is quite large and bulky to lift alone. But the Blackstone team did add multiple rolling casters to make it possible to move around your backyard or campsite.
Other pros and cons of the Blackstone 28 griddle you should know beforehand include:
Pros:
The cooking top gets hot so fast
Features a removable side table
Has a bottom shelf to store your tools
You can take it apart for easier storage
It also has a nice grease management system
Cons:
The standing legs can't be adjusted (height)
It catches rust pretty easily in the  outdoors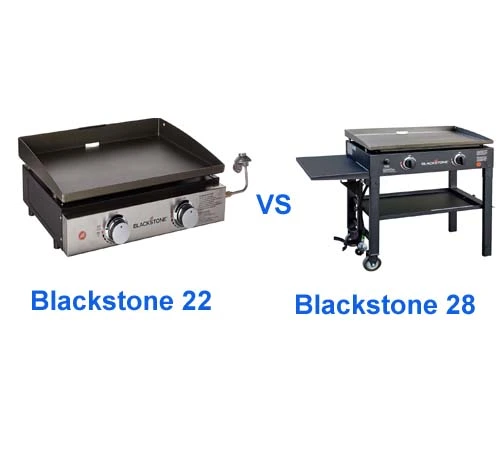 Blackstone 22 vs 28: Comparing the Features & Capabilities of the Griddle Grills
After over 15 hours of going through the features and capabilities of Blackstone 22 and 28, here's how they stand out from each other.
Best of Budget
The Blackstone 22 griddle grill is the best option if your concern is on the cost. Indeed, the appliance is still a bit pricey, but it 's currently retailing at $209, whereas the Blackstone 28 has a tag of about $290.
On various occasions, Blackstone offers limited-time deals where you can save up to eighty dollars on either griddle station. But even then, you'll still have to pay a little more for the 28-inch model.
Best of Accessories
Different from BBQ grills, a griddle station doesn't have a lot of cooking accessories. Blacktop actually sends the 22-inch and 28-inch machines with only the cooking top and grease management pan.
However, the 22-inch  model does come with a top lid. And for that, you won't have to go back to your pocket like the Blacktop 28, which doesn't have the lid.
But even then, neither of the two griddle stations is compatible with a BBQ grate. So, you might want to look for something like Weber Q2000 or Q2200  if you'd want to cook, roast, sear, and smoke your food. 
Best of Build & Style
On the product description, you'll notice Blackstone 22 claims to consist of a "stainless steel material". But in reality, the burners and the front insert that the control knobs sit on are the only stainless steel parts. The rest of the frame and body of the gas griddle is powder-coated steel.
Even for the cooking top, the company has used rolled steel instead of the stainless option. So, you'll need to really care for your equipment to prevent rust and ensure you get to use it for a couple of years.
On its end, Blackstone 28 has only the burners in stainless steel material, which, of course, is crucial in preventing the gas holes from clogging with rust. The rest of the frame, body, front insert, side table, bottom shelf, and grease collection pan is powder-coated steel.
Best of Burning Fuel
All the two gas griddle stations use propane gas to burn. However, the Blackstone 22 can use the 20-oz propane bottle or the larger gas tank if you've got the adapter hose.
The high BTU of the griddle grill dries up the small gas bottles pretty fast, for sure. But you might find it handier while camping or tailgating than the large propane tank.
Speaking of large, our Blackstone 28 comes with the regulator hose you can comfortably connect to the standard 20lb propane tank. There's also a bracket on the side you can use to hang the tank instead of leaving it on the ground.
Best of Performance
As the big one, Blackstone 28 has slightly longer burners and more gas outlets than the 22-inch model. Hence, the reason it also shows a higher heat output: 34,000 vs 24,000 BTU-per-hour.
Regardless, either griddle grill heats the cooking top quickly, especially if you start on the highest temperature setting.
The said temperature setting has about six levels that you can control using the control knobs present. But the lowest setting's still pretty high, thereby you might want to start adjusting the frames from there not to burn your food.
User-Friendliness
Technically, both outdoor griddle grills require some assembling before you can use them. But the Blackstone 22 has fewer parts to put together: only the body, feet, temperature knobs, gas regular, and grease drip pan.
As for the Blackstone 28, there are a bit more parts to complete the griddle body. On top of what the model 22 has, there's the bottom self (tray), side table, gas tank hangers, and side handle. So, it'll take a little longer to stand up.
But once set up, both griddle grills are straightforward to operate. You just need to switch on the gas and light up the burners (using the electric push button or match stick). Then, use the control knobs at the front to choose the appropriate temperature for your cooking.
Best of Cooking Area
Basically, the two Blackstone griddle grills borrow their name from the size of the cooking top.
If it's the Blackstone 22, the cooking surface measures 22.25 by 16 inches, which gives a total area of about 356-square-inch. And that's enough to cook for up to five people with no fuss.
Meanwhile, the Blackstone 28 has a width of 16.57 inches to give a total cooking surface of approximately 464-square-inches. And as was mentioned earlier, such a space can accommodate over 24 burgers or pancakes in one go. So, you can cook for a group of seven to ten or more people within minutes.
Best of Portability
All the two griddle grills are good for camping and tailgating. But if you need something small and faster to set up, the Blackstone 22 has a base footprint of 22.5 by 19 inches. And as was just mentioned, it also has a few components to put together before you can start using it.
Of course, with the right tools, you can also set up or dismantle the Blackstone 28 within minutes. But once set up, its mobility won't have been easy with its bulkiness if not for the added caster wheels.
FAQ
Is the Blackstone 28 big enough?
At a 464-square-inch cooking area, the Blackstone 28 griddle grill is over 100-inch-square-inch larger than the 22-inch model. It's big enough to cook for at least seven people in one run.
What is the most popular size Blackstone griddle?
Blackstone is one of the bestselling griddle grills in the market right now. However, the Blackstone 28 is the most popular size in the catalog, with over 8,000 positive recommendations on Amazon (alone).
What is the difference in Blackstone griddles?
Technically, the main difference between the Blackstone griddles is the size and also the design (tabletop vs flat-top models). The heat output of the various griddle grills also differs between the various sizes. But the cooking results are pretty much the same.
Can you cook ribs on a Blackstone griddle?
You can cook about anything on the Blackstone griddle. Fried eggs, smash burger, steak (fish, beef, or any other meat), fried rice, vegetables, pancakes, there's no limit. It's even possible to cook ribs, but on the Blackstone 22 with a closable lid.
Final Thoughts
Both Blackstone 22 and 28 are exceptional griddle grills for cooking outdoors while at home or when camping. They heat up pretty quickly and cook about anything your heart craves for breakfast, lunch, or even dinner.
Nonetheless, the Blackstone 22 is still my favorite griddle station. The compact size and the ability to use the small propane bottle or large tank are the main selling points. But it's also eighty bucks cheaper, yet can do anything you would with the Blackstone 28.